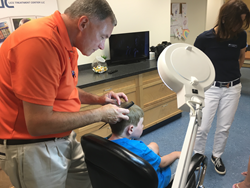 Careful, manual removal of bugs and nit in conjunction with safe, non-toxic shampoo is the most effective treatment for head lice removal.
Monroe,CT (PRWEB) August 09, 2016
Recent news articles worldwide alerted the public to the existence of "Super Lice" that are resistant to the most widely sold permitherin- and pyrethrum-based products. The September 2016 issue of Consumer Reports, cited a study by the Journal of Medical Entymology that found 132 of 138 lice collected from 48 states to be resistant to permitherin- and pyrethrum-based lice products. This includes permitherin- based Nix and, most likely, pyrethrum-based Rid—both of which have long been touted as effective against head lice.
Importantly, Michael Hansen, PhD., as senior scientist at Consumer Reports also cautioned that some prescription lice products may "pose problems", especially shampoos containing lindane a neurotoxic pesticide. In fact, Consumer Reports petitioned the FDA to outlaw that neurotoxic pesticide in 1981 and "wrote the agency again in 2015, after lindane was found to be carcinogenic to humans by the World Health Organization." However, as the article states, it's still on the market as a prescription drug for lice.
According to the Consumer Reports "Ask Your Experts" writer, "Wet combing" followed by manual nit removal "is the best way to get rid of the pests." Lice Treatment Center® wholeheartedly agrees with the writer's conclusion. In fact, the key step in LTC's pediatrician-developed treatment protocol for head lice removal, is meticulous "comb-outs" using an all natural, non toxic treatment conditioner as the comb-out lubricants. This is followed by careful, hand-removal of live lice and nits using a stainless steel, professional nit comb. After-care combing and shampooing in conjunction with a specialized treatment oil for 7-10 days is required to ensure no live bug or nits remain. To underscore the safety of it's treatment protocol, LTC's professional lice technicians use only LTC's proprietary brand of physician-formulated, all-natural ,non-toxic products during lice removal treatments. Additional information about the lice removal process and strategies to repel head lice can be found at http://licetreatmentcenter.com/lice-info/how-to-get-rid-of-lice-naturally.