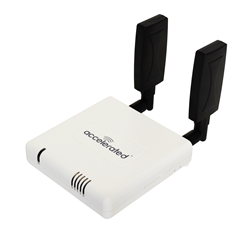 Accelerated poised to announce two new innovative cellular LTE products for business continuity and reliable cellular data connections
Tampa, Florida (PRWEB) August 08, 2016
Accelerated today announced it will be an exhibitor at the Super Mobility CTIA event in the Las Vegas Sands next month. Along with showcasing its award winning 6300-CX LTE Router Accelerated will announce two new cellular LTE products. Come visit Jason Dorough and Mark Savage at Booth Number 5335.
About CTIA Super Mobility 2016
The industry hot spot for everything wireless. The mobile industry is constantly transforming how consumers connect with their everyday lives—at home, at work and everywhere in between. Featuring exhibits, content, keynotes and interactive experiences, CTIA Super Mobility 2016 will show you the big picture by connecting you to the next-gen mobile that will impact your business, your customers, your career and your future. Join us in Las Vegas this September 7, 8 and 9, 2016 for the LARGEST mobile event in the Americas and walk away with a better understanding of how wireless is transforming how we communicate, innovate and experience life in an increasingly connected world. For more information, visit http://www.CTIASuperMobility2016.com.
About Accelerated - Connected Is Everything™
Accelerated is an innovator and leading designer of VPN, Cellular and OEM solutions specializing in global cellular data network communications. Its industry-leading hardware and software solutions provide primary and failover fixed wireless data connectivity for business continuity and cloud-based network management. Since the creation of its flagship NetBridge product in 2006, Accelerated continues to innovate its line of cellular hardware, network management software and network function virtualization (NFV) technology. Accelerated offers a range of wireless WAN (WWAN) products including the 6300-CX and 6300-LX series of LTE, 4G and 3G router products ideal for retail or branch locations or even Machine to Machine (M2M) and Internet of Things (IoT) environments. More advanced communication technologies such as its 5301-DC Dial-to-IP™ Converter and its 5400-RM Cellular Out-of-band (OOB) Remote Manager, a compact, high-performance, remote network management platform complement its product line. All Accelerated products can be centrally managed using the Accelerated View™ cloud-based network management software. Accelerated is headquartered in Tampa, Florida, with offices in Chicago, Atlanta and Brisbane, Australia. For more information, visit: Accelerated.com.