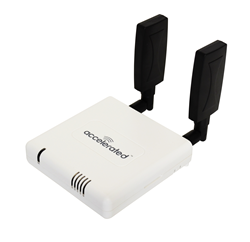 The perfect companion for LTE connectivity for all SonicWALL products
Tampa, Florida (PRWEB) August 09, 2016
Accelerated today announced it will be exhibiting its award winning 6300-CX LTE Router at Dell Security's PEAK16 security conference in Las Vegas between August 28-31.
Accelerated is a SonicWALL approved vendor with successful deployments of its 6300-CX LTE router attached to TZ and other SonicWALL products where the 6300-CX provides cellular failover for business continuity or primary wireless connectivity.
The 6300-CX is the perfect SonicWALL cellular companion and supports all SonicWALL firewalls and appliances. Its embedded LTE module and high gain antennas easily outperform USB Cell Modems. The 6300-CX's included temporary battery pack can be used for a site survey to find your site's strongest cell signal. Each 6300-CX includes Rapid Mounting accessories to quickly mount and remotely power the 6300-CX.
For more information on the benefits of using an Accelerated 6300-CX LTE Router with SonicWALL products review our SonicWALL Informational Flyer.
About Accelerated - Connected Is Everything™
Accelerated is an innovator and leading designer of VPN, Cellular and OEM solutions specializing in global cellular data network communications. Its industry-leading hardware and software solutions provide primary and failover fixed wireless data connectivity for business continuity and cloud-based network management. Since the creation of its flagship NetBridge product in 2006, Accelerated continues to innovate its line of cellular hardware, network management software and network function virtualization (NFV) technology. Accelerated offers a range of wireless WAN (WWAN) products including the 6300-CX and 6300-LX series of LTE, 4G and 3G router products ideal for retail or branch locations or even Machine to Machine (M2M) and Internet of Things (IoT) environments. More advanced communication technologies such as its 5301-DC Dial-to-IP™ Converter and its 5400-RM Cellular Out-of-band (OOB) Remote Manager, a compact, high-performance, remote network management platform complement its product line. All Accelerated products can be centrally managed using the Accelerated View™ cloud-based network management software. Accelerated is headquartered in Tampa, Florida, with offices in Chicago, Atlanta and Brisbane, Australia. For more information, visit: Accelerated.com.