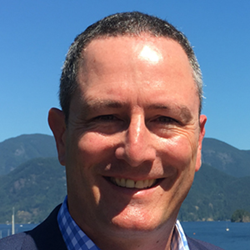 "His analysis will focus on how technology can deliver tangible, measureable benefit at each stage of the enterprise data value chain. Blue Hill customers have a new resource to help them get the most out of their data technology investments."
Boston, MA (PRWEB) August 09, 2016
Today, Blue Hill Research, the leading research and advisory firm focused on the customer journey for enterprise technology selection, announced the hiring of Principal Analyst Toph Whitmore to lead the firm's Big Data & Analytics practice. Mr. Whitmore is based in Vancouver, British Columbia, Canada, and is Blue Hill's first employee as part of its west coast expansion in 2016.
"With his experience as a technology marketing executive, management consultant, and writer, Toph brings a unique perspective to Blue Hill Research," says Ralph Rodriguez, Blue Hill Research Founder and Executive Chairman. "His analysis will focus on how technology can deliver tangible, measureable benefit at each stage of the enterprise data value chain. Blue Hill customers have a new resource to help them get the most out of their data technology investments."
Prior to joining Blue Hill Research, Whitmore spent four years providing consulting services to Microsoft, delivering strategic project management leadership. More recently, he served as a marketing executive with cloud infrastructure and Big Data software technology firms in Western Canada. A former journalist, Whitmore's writing has appeared in GigaOM, DevOps Angle, and The Huffington Post, among other media. He received his bachelor's degree in English from Pomona College, and his MBA from the Tuck School at Dartmouth.
"The Big Data & Analytics space is entering a new, more mature, and frankly, more rational phase," notes Whitmore. "One in which line-of-business value delivery will dictate IT investment and utilization, rather than the other way around."
With this hire, Blue Hill Research expands its geographic reach to the West Coast. In his new role, Whitmore will commute to the tech hubs of the Pacific Northwest and Silicon Valley.
"I'm proud, eager, and more than a little humbled to join Blue Hill Research as a principal analyst," concludes Whitmore. "In collaboration with our client stakeholders and other industry influencers, I look forward to continuing to explore—and document—how technology can bridge the gap between data and decision in the modern enterprise."
For more information on Blue Hill Research, or to schedule a meeting with Mr. Whitmore, contact Kaliegh Rodriguez at: krodriguez(at)bluehillresearch(dot)com.
About Blue Hill Research
Founded in 1993, Blue Hill Research, an NTA company, is the research arm of New Technologies, focused on providing end-users with a clear path to successful and profitable technology implementations, and ensuring that technology deployments align with a roadmap for success for the three key stakeholders: technological, financial, and line-of-business executives. Blue Hill's annual research agenda includes legal technologies, risk management, financial operations, the Internet of Things, enterprise mobility, analytics, business intelligence, and enterprise performance management.
Learn more about Blue Hill's analysts at http://www.bluehillresearch.com.
Media Contact
Kay Rodriguez, 617 624-3600
krodriguez(at)bluehillresearch(dot)com