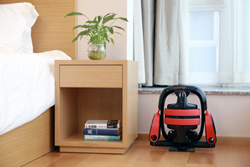 "MOVE IT! represents the future of fitness. It was conceived to meet the needs of today's men and women, who might forego working out because of hectic lifestyles, or those who prefer to do them on their own schedules.
Hong Kong (PRWEB) August 10, 2016
MOVE IT fitness system is being previewed with a demo and an onsite push up challenge for attendees to try out at the Arnold Schwarzenegger event "Arnold Classic Asia Multi Sport Festival" August 19-21, 2016 at Asia World Expo . This new modular and app enabled fitness system provides the convenience of a four-in-one personal gym equipment, enhanced by the game changing capabilities of simultaneous workout tracking and several immersive features.
Designed as a sleek and compact unit that is easy to disengage and reassemble, "MOVE IT" showcases patent-pending Sensory Intelligent Handles that attach to an Ab Wheel, a Resistance Band, two Push-Up Grips, and a Jump Rope. Once attached to any of the unit's specific fitness gear, these smart handles provide real-time synchronized movement tracking delivered wirelessly to the interactive app on the user's smartphone. Not only does the system tally the number of reps and calories burned, but it can also prompt proper form or appropriate difficulty levels, keep a running record of accomplishments and progress on the user's personal profile, and indicate each workout status via the handles' LED indicator lights. Additionally, MOVE IT's iOS and Android compatible mobile platform allows users to access trainer-created programs for various fitness levels, participate in live workouts, connect and create motivational interactions with the brand's fitness community through buddy systems, one-on-one or team challenges.
Arnold Schwarzenegger will be in attendance for the event's debut in Asia, highlighting a fitness exhibition, professional and amateur body building contests, and a range of sports including martial arts, fencing, strongman, rugby, jump rope, kettlebell, table tennis, fitness, basketball, yoga and more. Sports stars, IFBB Pros, fitness celebrities and athletes are scheduled to make appearances.
About MOVE IT
Founders Ivan Ho and Oscar Wong created MOVE IT as a way for people with hectic schedules to work out whenever they want from the home or office. The compact modular unit of gym equipment combined with cutting-edge software platform for simultaneous and precise tracking of movement, calorie count and personal progress. Several other features such as multi-level workout programs, live fitness trainer conducted classes, engagement with other users, buddy system, personal and team challenges, all create the realistic environment of a gym at home. MOVE IT comes in three colors – Graphite Blue, Pristine White, and Obsidian Black – and two models: the Move It Basic (which includes the downloadable Move It App, and the four major equipment housed within the unit with a charging cable) retailing for $229; and the Move It Pro (which includes all the components for the Basic with additional performance skip rope, two resistance bands with higher tension levels, and a knee mat) retailing for $269 – available for purchase at http://www.indiegogo.com/projects/move-it-your-smart-mobile-connected-personal-gym-fitness#/