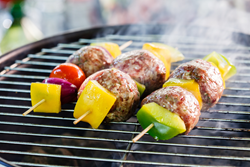 A fitting tribute to these American workers is something that requires a little bit of construction, says Brett Black COO.
Devault, Pennsylvania (PRWEB) August 09, 2016
As the Labor Day holiday approaches, the Devault Kitchen Magician team decided to unveil some favorite Devault dishes. The purpose is to share appreciation for those American workers who contribute every day to the strength, prosperity and well-being of the country. "Over the coming weeks, a series of delicious recipes and tips will be released to express an appreciation and gratitude for some of the hardest working men and women in the country", says Brett Black, Chief Operating Officer. "Devault Foods believes that these workers deserve the best offering and hope that they enjoy these dishes while relaxing with family and friends on Labor Day."
The series kicks off with a tribute to construction workers. These workers are responsible for the gorgeous skylines, favorite museums, neighborhoods and community centers. They work long hours under difficult conditions and nearly impossible deadlines. They are often small business owners and entrepreneurs who take risks most would choose to pass. Contrary to stereotypes, they are intelligent, highly skilled workers who are essential to the growth and vitality of the country. The hardhats are off to the hard-working men and women who make up all segments of the construction industry, from the engineers and architects, to the equipment operators and laborers. Thank you for literally building the foundation for a strong economy.
"The Kitchen Magician team felt that a fitting edible tribute should involve a bit of construction." continues Brett Black. "The team offers a delicious and simple take on a classic kabob for an exceptional Labor Day barbeque."
Beef Kabob:
Devault Signature Beef Meatball
Red Onion
Button or Baby Bella Mushroom
Zucchini
Cherry or Grape Tomato
Sauce:
Rosemary and Garlic infused Olive Oil,
Greek Salad Dressing, or
Stubbs Beef Marinade
Chicken Kabob
Devault Signature Chicken Meatball
Pineapple
Red Bell Pepper
Yellow Onion
Sauce:
Mango Ginger Habanero Sauce, or
Sweet and Sour Sauce
If using wooden kabob sticks, soak them in water for at least 20 minutes before assembling the ingredients. The kabobs can be assembled hours before cooking and stored in a refrigerator. The kabobs can be prepared on a grill or in an oven. To prevent the ends of a wooden kabob stick from burning, wrap the exposed tips with aluminum foil.
Building a kabob with a Devault Signature beef or chicken meatball makes prep simple as the meatball is prepared with the best cuts and seasonings. It also makes clean up easy. The vegetables and fruit should be cut into large cubes. Assemble the kabob by alternating meat, vegetable and fruit options on the kabob stick. Season to taste with salt and pepper. Cook on a grill over medium heat or in an oven that has been pre-heated to 425 degrees. Cook to get a toasty char on the edges and the meat is cooked through. Remove from heat and allow to cool for 2 minutes.
The kabob can be enjoyed with or without sauce. The sauce can also be served on the side for dipping. The Kitchen Magicians suggest a simple infused oil or prepared bottled sauce to keep preparation easy-breezy for the holiday. They also suggest that the kabobs can make a great sandwich by deconstructing the kabob onto a toasted roll and adding a drizzle of sauce. Now that's a treat!
"The American culture is rooted in family values and a deep appreciation for the privileges extended to citizens of this great country. Like the many working people who look forward to a bright future, Devault Foods creates new products and services which will continue to bring the best taste and value to customers. At this time, Devault Foods extends the best taste, recipes and wishes for a great Labor Day Weekend," concludes Black.
Devault Foods is built upon seven (7) decades of the Fillippo family's experience. The heritage includes cattle farmers, butchers and recently leaders in the food service industry. Devault Foods is unrivaled in operational excellence and is a market leader in portion-controlled meat packaging. Today, Devault Foods is focused on current trends and the future needs of the marketplace. Commitment to quality and excellence goes beyond industry standards and provides a platform to deliver exceptional products well into the future. For more information, please visit http://www.devaultfoods.com