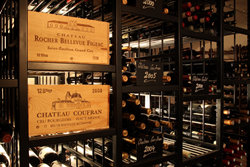 I looked at the usual wood racks first, but ultimately went with the metal Degre12 system. I love the black metal, the price was better than wood racks and the flexibility of the shelving was key." Houston area collector
(PRWEB) August 09, 2016
NCV Custom Wine Rooms is expanding their services to sell and install the European designed Degre12 metal wine racking system in Arizona, Colorado and all of Texas. "We have seen how much our Houston customers enjoy the look and functionality of the Degre12 designs. Up until now, access to this remarkable system has been limited in the United States. We are excited to be expanding its availability," says Jost Lunstroth, Managing Director of NCV Custom Wine Rooms LLC.
Lunstroth has been building custom wine features throughout Texas since 2005 and won the Sub Zero / Wolf Kitchen Design Award for Wine Storage in 2006 / 2007. He also created the unique wine storage concept, Nos Caves Vin, which has two locations in Houston. (http://www.noscavesvin.com)
NCV Custom Wine Rooms began selling the Degre12 system to its custom wine room clients in April of this year. The Degre12 system includes the Classic, a line of shelves and sliding trays designed for wine rooms and the Sliding, a line designed for refrigerated wine cabinets. Both lines include fixed shelves and sliding trays that hold OWC's or bottles. The selection of fixed or sliding trays is completely customizable within the selection of pre-determined heights and widths of the racking section. It is this kind of versatility that makes the Degre12 system attractive to NCV customers.
Since offering the Degre12 system, Jost found that Houston area collectors appreciate the price point, bottle capacity and quality of the racks. It was due to this success, that they decided to look into launching other markets in the US.
After an exhaustive search, NCV has partnered with three trusted wine room builders: Innovative Wine Cellar Designs in Scottsdale, AZ, Wine Cellar Specialists in Richardson, TX and Red Leaf Solutions in Castle Rock, CO.
"We have been looking for a quality metal wine rack product with a good price point that is easy to install", said Nancy Higgins, the founder of Wine Cellar Specialists. "We also wanted something that looks great and is different from most other rack systems on the market today. The Degree 12 met all of our requirements."
Sandy Horowitz of Innovative Wine Cellar Designs says, "A lot of our clients are looking for metal wine racks and the Degre12 racks are appealing for a few reasons. The per bottle price and the customizable shelves are two of the high points."
"We wanted partners who upheld the NCV values of quality and expertise. Wine collectors have invested a lot of time, care and expense in their collections. We work with our customers to create rooms not only meet their design aesthetics, but are also state of the art in terms of storage. Each room is special to the owner, but also meets our high standards of proper climate conditions. Anyone we work with must also pride themselves being experts in their market," commented Jost Lunstroth, "We are elated these three dealers are working with us to bring these racks to Texas, Arizona and Colorado wine collectors."
The Degre12 racking system is manufactured in Belgium and has been installed throughout Europe and parts of the Middle East since 1995. http://www.Degre12.com
NCV Custom Wine Rooms LLC is a division of Nos Caves Inc., the owner and operator of Nos Caves Vin. http://www.Ncvwine.com
Red Leaf Solutions has been serving Denver area wine collectors for over 15 years. http://www.denverwinecellar.com/
Wine Cellar Specialists in Texas has won numerous awards for their custom wine rooms. They provide full service wine cellar builds in the Dallas/Fort Worth area as well as working with homeowners and contractors nationwide. They will ship their racks anywhere in the USA. http://www.winecellarspec.com/
Innovative Wine Cellar Designs has been designing and building custom wine features since 2001 and has showrooms in Las Vegas, Tucson and Scottsdale. http://www.winecellardesigns.biz/