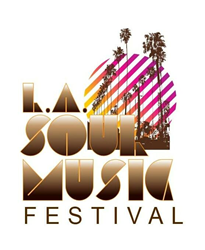 Los Angeles, CA (PRWEB) August 09, 2016
15 thousand music-loving fans gathered from across Southern California to enjoy three nights of a stage lit up by all things "SOUL," July 22- 24, 2016 live at the Autry Museum in Griffith Park. The Los Angeles Soul Music Festival, its creator, and its producers turned out to be the perfect "Cinderella story" for summer. Though the new players on the outdoor festival circuit, their success not only proved to be a true competitor but also raised the bar significantly in its market.
Mark Douglas, CEO of Airborne Tickets and creator of the Los Angeles Soul Music Festival, stood at the helm of this venture. A former lounge and restauranteur from the San Francisco Bay area, Mark specialization lies in recognizing industry voids and creating solutions. By observing other club owners having the huge burden of marketing, cash flow management, record keeping and fraud prevention, he knew the key was technology, applying Asian and European mobile commerce trends to identify and target a younger demographic. Douglas' vision combined art, culture and technology packaged in a manner to benefit modern consumers mobile lifestyles.
To help Douglas make his mark on the scene, he hand-selected producers whose accolades speak for themselves. Ezell Kendrick has created advanced multi-media productions by identifying and defining cost effective financial, technical and creative solutions for Fortune 500 companies such as Mattel. His analysis of the requirements of media production, information technology projects and business management has made him a highly sought-after digital media manager. Jeffrey Weber, a widely recognized 35-year music industry veteran, has produced 185 plus CDs with releases on nearly every major label as well as a host of independent labels. Along the way, his projects have yielded two Grammys, seven Grammy nominations, at least seventeen top ten albums, two number one albums and an assortment of other honors. Jeff has extensively produced concert and events. He holds vast experience in concert management and production, staging, lighting, and sound from the smallest of venues to large stadium shows including NAMM, Netflix, Pebble Beach Pro-Am, AT&T, Dockers, Taste Of Chicago, NASCAR, American Idol, The Tonight Show, among many others.
Collectively this Los Angelean "dream team" made it happen. The lineup featured Grammy, Billboard, ASCAP, BET, Soul Train, and Reader's Choice Award-winning and nominated performers. These included the talents of Eric Benet, Lalah Hathaway, Joe (Joe Thomas), Jazmine Sullivan, Marsha Ambrosius, Angie Stone, Lyfe Jennings, Melanie Fiona, Eric Roberson, Rahsaan Patterson, Goapele, Vivian Green, Loose Ends featuring Jane Eugene, Avery Sunshine and Conya Doss.
Los Angeles Soul Music Festival was proud to function on a cashless campus using the wristband technology containing the same RFID (radio frequency identification)/ NFC (near-field communication) technology that Apple wallet integrates for efficient and secure transactions, providing festival-goers with a more efficient and worry-free experience. On opening night, the festival even received a celebratory proclamation from the City of Los Angeles Board of Public Work Commissioner, Mike Davis.
Airborne Tickets and the Los Angeles Soul Music Festival Management plans to continue enhancing memorable live events through consumer-based entertainment experiences. The 2016 launch of its first annual festival, clearly served as an introduction the Los Angeles market. The group has plans for subsequent, multi-genre concert series to follow and a summer, soul-filled sequel for 2017 currently in the works.
For more information on this year's festival, visit their site at http://www.lasoulmusic.com and the social media on Facebook, Twitter and Instagram platforms.