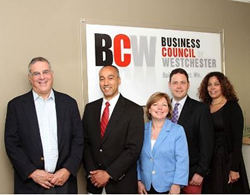 I've worked with Bridget and the Gibbons Digital team for a number of years and the marketing services that they provide enabled my business to grow substantially, said Paul Herman of Herman & Company, CPA's.
White Plains, New York (PRWEB) August 09, 2016
Gibbons Digital has spent the last nine years working to simplify social media for small and medium ­sized businesses in a wide variety of industries throughout the tri­-state area, including accounting, home automation, solar energy, event design and more. The business was founded in Manhattan in 2007 and moved to Bronxville in 2012 to work more closely with their clients.
Bridget Gibbons was named one of Westchester's Best Bosses by 914INC. Magazine, and has been Co­-Chair of the Business Council of Westchester's Westchester Business Expo since 2014. She is also on the Board of Governors of the YMCA of Central and Northern Westchester, the Board of Directors for Women's Enterprise Development Center, and teaches social media marketing strategy at SUNY Purchase. To Gibbons, the benefits of joining forces with InspiriaMedia were clear: their mission – to deliver business-­driven results – is closely aligned with the strategy of Gibbons Digital, and the merge would facilitate the ability to offer a broader range of services to her existing clients.
"I've worked with Bridget and the Gibbons Digital team for a number of years and the marketing services that they provide enabled my business to grow substantially," said Paul Herman of Herman & Company, CPA's. "I am excited about now having access to all the services and resources that the InspiriaMedia Group offers."
With the move to InspiriaMedia, Gibbons will assume the role of Director of Digital and Inbound Marketing, by which she will be responsible for driving the strategy for InspiriaMedia's digital and Inbound marketing clients. Inbound Marketing focuses on creating quality content that drives "the right kind" of traffic to a company's website by aligning the content posted across various platforms with the customer's needs and interests. Visit our Inbound Marketing Blog for more information. Gibbons will manage client relationships, as well as the team delivering the solutions, and will be bringing a member of her current team with her to InspiriaMedia's White Plains office, along with 17 clients.
"I am thrilled to be joining InspiriaMedia. This fast­-growing agency provides solutions to clients that are truly unique," said Gibbons. "There is an amazing synergy between our two organizations. Ronnie, Nick and the team are passionate about delivering business­-driven results to the companies they work with, and I share that passion."
Co-­Founders Nick Simard and Ronnie Ram, who have both been recognized with a 40 Under 40 Rising Stars Award from the Business Council of Westchester (BCW), are enthusiastic about the possibilities that come along with this new union.
"Having seen the work Bridget has done in the New York metro area business community over the past few years, we are confident that her experience will help further the InspiriaMedia brand for years to come and enable us to deliver even better service to our clients," said Ronnie Ram, President and CEO InspiriaMedia.
As a result of the recent acquisition, InspiriaMedia will be able to offer a complete line of Digital Marketing Solutions to complement their strong portfolio in Creative Services, Inbound Marketing and Outdoor Advertising. This not only allows them to compete on a heightened level in comparison to other local agencies, it also enables businesses in the suburbs of New York and around the country to get superior, quality work in a cost efficient manner.
"We are thrilled to see two exceptional Business Council members get together to form an even stronger company," said Marsha Gordon, President and CEO of The Business Council of Westchester. "We have a very competitive county­-wide marketing services sector and this will only enhance our advantage in the New York Metro area.
About InspiriaMedia Group
InspiriaMedia Group is a three­-time winner of the prestigious Inc5000 America's Fastest Growing Companies award and a top ­tiered Hubspot Inbound Marketing partner currently ranked among the top 15% of partners. As a New York ­based strategic outdoor advertising, media buying & Inbound marketing firm, Inspiria works with successful clients and agencies across a variety of industries throughout the United States to help them increase visibility and market share. InspiriaMedia provides a full range of services from comprehensive, long­-term marketing strategy to daily marketing management. Their mission is to provide exceptional visibility and business ­driven results for their clients through strategic media placements and Inbound marketing.
InspiriaMedia Group
10 Mitchell Place, Suite 201
White Plains, New York 10601
Toll Free: 888.462.9775
New York: 212.203.2905
Westchester: 914.239.3421
http://www.inspiriamedia.com/
adinfo(at)inspiriamedia(dot)com
-XXX-