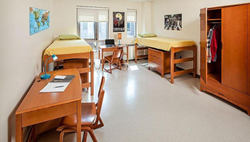 The Aquinas Hall project came in on time and on budget. And in time for the new school year.
East Setauket, New York (PRWEB) August 09, 2016
Peeling away a tar roof to construct a new floor presented a challenge to the PENETRON Specialty Products (PSP) team earlier in the year. Attention to detail and the reliable LEVELINE 15 underlayment helped ensure the renovation project was completed on schedule.
Founded in 1856, Seton Hall University is an eminent Roman Catholic university in South Orange, NJ, known for its programs in business, law, education, nursing, and diplomacy. The university is comprised of eight different schools and colleges, with an undergraduate enrollment of approximately 5,200 students and a graduate enrollment of about 4,400.
ADDING AN EXTRA FLOOR
Aquinas Hall is a student housing building from the 1970s, which was completely renovated by GC-Torcon Contractors. The work included new energy efficient windows, elevators installed in the new lobby, redesigned restrooms and public spaces. In addition, the project included an extra floor at the top of the building, adding 64 student rooms (two beds per room layout), 18 ADA (disabled persons-accessible) rooms and two residence assistant (RA) suites.
Creating a new fourth floor meant removing the previous tar roof before work could begin. The floor surface prep became difficult because the resulting elevations required installments of LEVELINE 15 underlayment of about one inch in thickness.
PERFECT PREP A PRIORITY
"If the prep work to remove the tar roof is not done perfectly, the asphalt layer could not only be a bond breaker in the new floor, but actually leech through the layers of the finished floor," explains Peter Trainor, Vice President of Sales for PENETRON Specialty Products. "This would lead to visible staining of the final VCT or carpet cover layers."
The prep work of removing the roofing and preparing an optimal floor foundation was carried out by Fromkin Brothers, a PSP-certified approved applicator. Once the removal was done, the applicators installed PRIMER STX 100 and LEVELINE 15 underlayment from PSP for the flooring work in the fourth floor overbuild to ensure perfect results. The plumbing risers and floors of the new entry hall were treated with the primer and underlayment from PSP, as well.
"The Aquinas Hall project came in on time and on budget," concludes Mr. Trainor. "And in time for the new school year."
The PENETRON Group is a leading manufacturer of specialty construction products for concrete waterproofing, concrete repairs and floor preparation systems. The Group operates through a global network, offering support to the design and construction community through its regional offices, representatives and distribution channels.
For more information on PENETRON waterproofing solutions, please visit penetron(dot)com or Facebook(dot)com/ThePenetronGroup, email CRDept(at)penetron(dot)com, or contact the Corporate Relations Department at 631-941-9700.