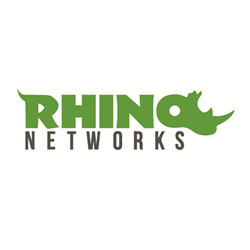 Asheville, NC (PRWEB) August 10, 2016
Rhino Networks, a leading provider of cloud-managed networking solutions for small- and medium-sized businesses, today announced it has brought on industry veteran Jon Lunetta as a managing partner. Lunetta brings over 15 years of cloud, mobile and communication technology experience to Rhino Networks, where he will focus on the company's software and IoT businesses.
Rhino Networks also announced today the formation of its new IoT practice. The company has established a partnership with Samsara, a leading IoT sensor solution provider. Samsara's wireless, cloud-based solution brings real-time visibility and analytics into physical operations – from transportation and supply chains to factories and industrial operations. Samsara was founded by Sanjit Biswas and John Bicket, previously the co-founders of Meraki, which was acquired by Cisco in 2012.
"We've known Rhino for many years through their role as a channel partner of Meraki solutions, and we know their commitment to and knowledge of cloud-based technologies that -solve customers' key problems," said Sanjit Biswas, Founder & CEO of Samsara. "At Samsara, our mission is to enable organizations to improve their efficiency with Internet-connected sensors, providing them with the visibility and analytics to grow revenue and reduce operating cost. Rhino Networks' depth of experience in the markets we serve will be a great asset for our customers, making them an ideal partner."
Rhino Networks was founded three years ago by Todd Carriker, who has a passion for bringing users, organizations, and service providers together utilizing cloud resources. As a result, Rhino has helped thousands of IT professionals, software vendors, and end users work more efficiently with cloud-based solutions.
"This is a brand new chapter for Rhino Networks, and I'm thrilled to welcome Jon as partner and to bring Samsara into the Rhino portfolio," says Todd Carriker, Founding Partner at Rhino Networks. "Samsara is fundamentally disrupting the fleet management model, and provides a scalable, versatile solution that our customers can easily take advantage of, regardless of their industry. Having Jon on board to help grow this business is an ideal fit, as he shares my passion and understanding of cloud-first technologies. His addition further supports Rhino's commitment to staying at the forefront of the ever changing technology cycle and allows us to expand into exciting new lines of business."
Lunetta has spent 15 years investing in, founding, and building high growth technology companies. Most recently he was a member of the founding team at Highfive, a leader in HD videoconferencing and meeting room collaboration solutions, where he was instrumental in establishing the original go-to-market strategy, fund raising, and scaling of one of the fastest growing products and sales teams in enterprise software history.
"Coming from the product space, I've seen firsthand how critical channel partners are to the health of technology go-to-market programs," said Lunetta. "But the mission and role of the channel is changing dramatically. Rhino is at the forefront of this transformation by bringing not only sales but customer and market insight to their partners, in the most important areas of information technology – cloud networking, IoT, and security. This is an exciting opportunity for me to partner with Todd and build on Rhino's success."
Prior to Highfive, Lunetta managed the cloud collaboration line of business at Polycom, joining Polycom from ViVu, an early pioneer in cloud and video technology which was acquired in 2011. He has also been involved as an investor and/or board member of Plarium Games, ZeroCater, and Meural, among others, and is a technology advisor to AS Roma.
For a free trial of Samsara's IoT solutions, contact Rhino Networks.
About Rhino Networks
Rhino Networks has been a full-service IT provider for over a decade, specializing in the deployment and management of computer systems and networks for small and medium-sized businesses.
Contact:
Rhino Networks
1-855-462-9434
solutions(at)rhinonetworks(dot)com