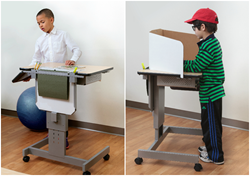 Chicago, IL (PRWEB) August 10, 2016
At a time when about one in three American kids and teens are overweight or obese, according to the American Heart Association, schools and parents are anxious to consider next-generation desks as a tool to promote health. Research shows that children enjoy increased health benefits when allowed to use standing desks in school.
Recent studies in the US and Great Britain indicate that children's activity significantly increases both in school and afterwards when classes were equipped with stand-biased desks.
The Focus Desk from The Marvel Group optimizes this increased level of productive classroom activity by providing a height-adjustable option for K-8 students. Designed in partnership with real-world teachers and students, The Focus Desk allows children to raise or lower the desk surface at will with a unique, silent Feathertouch™ lift mechanism. This provides a customized experience for each child to ensure comfort, promote activity, and enhance the learning environment throughout the class.
The Focus Desk differs in significant ways from fixed-height standing desks. Although fixed-height desks achieve increased calorie burn, they may also have negative effects on students' comfort and posture since they do not accommodate children of different heights. Additionally, experts suggest that some tasks, like writing and test-taking, may be better suited for sitting. Teachers also find that fixed height desks are too heavy and cumbersome to be moved, limiting options for collaborative group work.
For these reasons, the adjustable sit/stand Focus Desk is designed with children and teachers in mind, providing a better way to achieve the activity boost of standing in the classroom. It combines the health benefits of activity while providing flexibility and versatility to meet the needs of any student.
For more information about The Focus Desk from Marvel, visit marvelfocusdesk.com.
About The Marvel Group
The Marvel Group is a 70 year-old Chicago-based manufacturer of a wide range of high-quality furnishings to large, small, and home office markets as well as the education market. Product lines range from office chairs and file cabinets to executive office furniture and open office work-stations. Marvel® products are manufactured to ISO 9001 certified guidelines and backed by a lifetime warranty. The Marvel Group offers superior customer service serving five major industries to assure a problem free and timely project completion. For more information, visit http://www.marvelgroup.com.