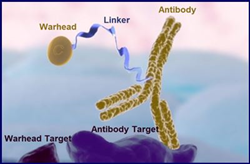 "The goal is to kill cancer cells, not normal cells"
Madison, Wisconsin (PRWEB) August 09, 2016
Centrose, a bio pharmaceutical company committed to bringing the most advanced precision therapies to patients, announced today a recent publication that provides a review of newly discovered cell surface cancer targets and precision therapies.
The Original Article entitled, "Extracellular Antibody Drug Conjugates Exploiting the Proximity of Two Proteins", was published online in Molecular Therapy, a Nature Publishing Group Journal. The article outlines Centrose's exclusive technology, five new drug leads and their unique ability to destroy cancer.
Led by Centrose co-founder and CEO James Prudent, Centrose and its collaborators explain how the EDC drug platform reaches a new level of precision by targeting previously unknown targets and how this new class of drugs may provide powerful safe alternatives to today's highly toxic cancer therapies.
Maybe the most interesting finding from the team is the method by which EDCs destroy cancer; a directed and completely extracellular approach of ion channel blocking. Disrupting ion flow (or salt balance) is an ideal way of killing cells because it leads to a process known as necrosis, a natural mode of cell death whereby danger signals are released and the innate immune system becomes activated. Not requiring drug internalization is also a preferred since cancers are known to become resistant to drugs that require internalization.
"This has been a huge project for all of us and we are very happy to finally share the results with the scientific community", said David Marshall, lead author on the team.
Centrose is now translating a number of the precision EDC medicines described in the article to the bedside. The most advanced are EDC1 and EDC9. EDC9 which incorporates the antibody known as Rituximab® will be first EDC to reach the clinic. Rituximab is the current gold standard for Non-Hodgkin's Lymphoma (NHL) yet many patients become resistant overtime. Since EDC9 uses a new mechanism of cell death, Centrose believe EDC9 may not only overcome many forms of resistance, but also replace the need for chemo therapies used in combination with Rituximab.
About Centrose
Centrose is a drug discovery company, committed to bringing the most-advanced precision therapies to patients afflicted by advanced forms of cancer and other difficult to treat diseases. Centrose created a new class of precision drugs, called EDCs, which give doctors the ability to place powerful medicines exactly where they want them. Precision therapy is a safer and more powerful treatment option because only diseased cells are affected; completely eliminating side-effects and dramatically increasing drug potency.