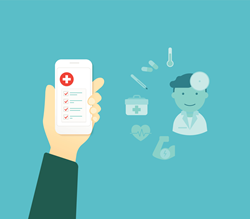 This built-in integration benefit would allow our designers and developers to focus on product innovation and exceptional UI/UX.
Boston, MA (PRWEB) August 11, 2016
Kinvey, the leading HIPAA-compliant mobile Backend as a Service (mBaaS) and Redox, the leading Electronic Health Care Record (EHR) API integration provider, today launched an end-to-end solution designed to accelerate the delivery of digital health innovations by solving the hard problems related to bridging EHR data into mobile, web and smart device applications. The on-demand cloud-based platform accelerates app delivery by 80 percent or more.
To improve patient outcomes, increase productivity, and reduce health care costs, apps need to integrate with EHR and other health care systems to provide an end-to-end view of a patient's state over time and to streamline care team processes by integrating mobile apps into daily workflows. Today, these efforts are hindered by legacy systems that were designed without mobile in mind. One major problem is the way data is formatted, stored, and retrieved on different EHR systems. There is no standard, and because most systems have been highly customized, integration is difficult without detailed knowledge of each system.
"Jefferson Health is always looking to improve the quality of patient care, and in the areas of technology innovation and consumer experience we are now using mobile apps to enhance caregiver and patient engagement. As we use Kinvey and their HIPAA-compliant mobility platform on the Google Cloud Platform to develop some of our mobile apps, we are excited about Kinvey's partnership with Redox," said Neil Gomes, vice president for technology innovation and consumer experience at Thomas Jefferson University and Jefferson Health. "Although we are not currently a customer of the Redox EHR integration platform, we recognize that its advertised functionality could help us implement secure apps that connect into Electronic Health Record systems in an extremely agile fashion. This built-in integration benefit would allow our designers and developers to focus on product innovation and exceptional UI/UX, while Kinvey, Redox, and Google serve up the mobile backend platform. This will get us closer to our goal of being able to aggregate meaningful, real-time, and contextual patient information, and integrate it to EHR systems to help our clinicians deliver better and more efficient care."
The combined Kinvey and Redox solution provides a complete HIPAA-compliant, end-to-end mobile app delivery platform that will quickly and easily allow health care providers to scale and extend EHR capabilities and other health care systems without making a big investment. Redox provides a modern API for EHR integration to address the interoperability and data access issues, while Kinvey provides the comprehensive cloud-based mobile app delivery platform with pre-built reusable components and no-code integrations into enterprise authentication and data sources. The solution frees health care providers from the time-consuming process of figuring out how to bridge EHR systems to the mobile world.
Kinvey and Redox uniquely accelerate digital health innovation with an out-of-the-box solution that:
● Easily accesses data from popular EHR systems including: EPIC, Cerner, Allscripts, Athena, AdvancedMD, NEXTGEN, McKesson, Meditech, GE Healthcare, Greenway, eClinicalWorks, DocuTAP, drchrono, CPSI and QRS Health Solutions
● Enables mashups of data from EHR and other enterprise systems including SAP, Oracle, Sharepoint and Salesforce to deliver new innovative use cases and streamlined mobile moments
● Frees frontend developers from learning the nuances of EHR systems by giving them a single protocol, data format and query language, no matter what the EHR
● Provides backend developers a way of enabling secure, controlled access to EHR systems through a reusable service catalog
App developers can start developing immediately and access data from across the health system landscape, allowing health care organizations to satisfy both patients and clinicians with apps, while still retaining the EHR as the secure workflow hub.
"The dream was to make the sharing of data universal and revolutionize patient care. Yet for mobile developers, accessing EHR data is cumbersome and time consuming, delaying delivery of innovation," said Jikku Venkat, vice president of product at Kinvey. "With Redox and Kinvey, developers gain a standardized way of accessing EHR systems, masking the subtleties of each system and turning a six-month project into a one-month project."
"Kinvey provides a HIPAA-compliant mobile app platform delivered as a cloud service," said James Lloyd, Redox's CTO. "It gives developers the ability to build and iterate rapidly on a platform that ensures their solution is compliant and scalable. Kinvey's dedication to letting developers focus on user experience instead of infrastructure is a great complement to Redox's mission of lowering the barriers of technology adoption in healthcare. We're excited that our combined solution can accelerate app delivery, and that the benefits of this collaboration get better as the ecosystem grows."
The solution is available today.
About Kinvey
Kinvey is the leading enterprise mobile Backend as a Service (mBaaS) platform that helps global enterprises, agencies, and developers launch successful and engaging apps and entire digital businesses, fast. Kinvey's patented platform provides comprehensive support for native, hybrid, and mobile Web applications and out of the box enterprise capabilities including identity management, rapid integration with enterprise data sources, a data store and file store for new mobile data, ability to run customized business logic, and a rich set of mobile engagement services. Kinvey is available on multiple cloud platforms, and is offered via multi-tenant and dedicated cloud deployment models, including a HIPAA Compliant edition for life sciences and healthcare requirements. On average, Kinvey customers launch applications twice as fast and at half the cost of traditional methods. For more information, visit http://www.kinvey.com.
About Redox
Redox is the modern API for healthcare. At our core, we enable best-in-class software to easily and securely interoperate with EHRs. By connecting to Redox once, applications can utilize existing infrastructure to integrate with any health system they choose via our standardized data models. Our engine expands the scope and quality of patient care by enabling third party solutions to augment the functionality of electronic health records. For more information, visit https://www.redoxengine.com