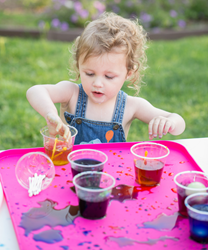 "We were impressed with the features and functionality of Messmatz™ from the moment we first saw them", says PlaSmart CEO Tim Kimber. "…and we are confident parents and crafters will discover many more practical uses for these mats." d a quotable
Ottawa, Canada (PRWEB) August 10, 2016
PlaSmart Inc., a Canadian-based, international distributor that selects products that are smart, simple, and fun has signed a world-wide license agreement with Little Bean Creations for Messmatz™ Creativity Mats. Messmatz™ are non-toxic, food-grade silicone creativity mats that protect surfaces while confining kids' messes, spills, and craft materials from crayons to small items such as beads.
About Messmatz
Now, parents can say, "Yes to the mess", while saying, "No", to dried paint on the table, play dough in the carpet, and crayons on the floor. The generously-sized, 24 x 18 inch Messmatz™ not only protect surfaces, they hold up to 32 oz. (0.9 L) of spills. Messmatz™ don't just contain spills and prevent small objects from rolling away, they provide essential padding. What parent hasn't rushed to slip a magazine or additional paper under a child's drawing to prevent occasional dents or grooves to wooden surfaces? Messmatz™ provide just the right amount of firmness for writing or drawing, even when using a single sheet of paper. Unlike hard trays, Messmatz™ don't slip and slide on firm surfaces and, best of all, their flexible, raised edges are soft on arms and elbows.
"We were impressed with the features and functionality of Messmatz™ from the moment we first saw them", says PlaSmart CEO Tim Kimber. "…and we are confident parents and crafters will discover many more practical uses for these mats." Messmatz™ are rated for ages 0+, clean easily, roll up for storage, and are handy for crafters of all ages.
Messmatz History
Little Bean Creations was founded in 2012 with a goal to bring innovative, effective, and safe, parent-developed products to market. Following the successes of Little Bean's car seat footrests, and nursing covers, the company tackled a relevant and timely challenge: toddlers' messy arts and crafts! From this arose Messmatz™, the mat with an edge that allows children maximum creativity while reducing parental cleanup. Even reluctant parents are finally able to say, "Yes" to the mess.
"We are thrilled to partner with PlaSmart to bring Messmatz™ to global markets", says Messmatz™ creator, Erica Turzak. "In these fast-paced times, with ever-changing technology, it is important to focus on toys that inspire creativity, family time, and hands-on fun – and PlaSmart does just that!
About PlaSmart Inc.
PlaSmart Inc. is a Canadian-based, global toy distributor that selects products that are smart, simple, and fun. It seeks out interesting, one-of-a-kind toys that meet its 'smart and simple' philosophy and avoids toys that are difficult to understand or operate. PlaSmart's products include multiple award-winning toys and games, including the ever-popular Original PlasmaCar®, a mechanical marvel powered by the cleanest and most inexhaustible energy source, kid power; PlasmaBike®, a balance bike like no other; and Kick Flipper . Like a skateboard without wheels, Kick Flipper can be used indoors or out, on carpet, grass, or sand. PlaSmart's products are available on five continents and in more than sixty countries. For more information visit PlaSmart's website.