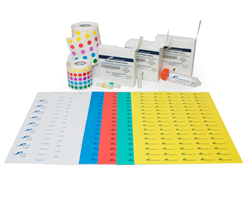 Available in sheets or rolls, dots or rectangles, and in either white or assorted colors - get a free sample at belart.com/cryolabels
Wayne, NJ (PRWEB) August 09, 2016
Ordinary labels are not meant to be used in cold storage conditions and can fall off or be ruined, risking sample mix-ups and content confusion. Bel-Art® – SP Scienceware® new Cryogenic Storage Labels feature a strong, permanent adhesive that will withstand cold storage temperatures and maintain adhesion to glass, plastic, cardboard and more, even in liquid nitrogen.
"These cryogenic labels are ideal for use in -80°C to -196°C environments, for either short or long term storage," according to Ed Murphy, Product Manager for SP Scienceware.
Available in sheets or rolls, dots or rectangles, and in either white or assorted colors, the labels come blank and are customizable for each lab's needs.
"Sheets can be fed through a standard ink jet or laser printer utilizing downloadable templates in word format," added Murphy. "Non-water soluble markers or pens are also suitable for writing directly on the labels."
Bel-Art – SP Scienceware® Cryogenic Storage Labels are priced from $22.80 to $115.55 depending on the label type and number of labels in the pack. Free samples can be obtained by visiting http://www.belart.com/cryolabels.
For more information on these new Cryogenic Storage Labels, or the complete line of laboratory offerings from Bel-Art – SP Scienceware, call 1-800-423-5278, email info(at)belart(dot)com or visit http://www.belart.com. To download catalogs from any of the SP Scienceware brands (Bel-Art, H-B Instrument or Wilmad-LabGlass), visit http://www.belart.com/catalogs.
Research, industrial and healthcare professionals rely on SP Scienceware for their sample handling needs. Sold worldwide, Bel-Art and H-B Instrument brand laboratory supplies include over 5,000 items from safety wash bottles to fume hoods, thermometers, racks, desiccators, hydrometers, ice buckets, scoops and spoons. Custom calibration services, plastic molding, specialty coatings and wire manufacturing are also available. Wilmad-LabGlass brand laboratory glassware complements Bel-Art and H-B Instrument with over 7000 items including NMR and EPR consumables and specialty glassware, as well as custom fabrication for individual glassware, glass repair services and OEM glass parts.
SP Scienceware is a division of Warminster, PA based SP Industries which also include SP Scientific laboratory, thermal management, and pharmaceutical production equipment and SP Ableware aids for daily living.