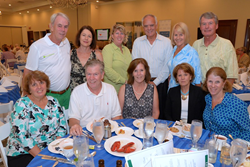 Bronx, NY (PRWEB) August 08, 2016
On Aug. 1, more than 275 people attended Calvery Hospital's 28th annual Golf & Tennis Classic at Brae Burn Country Club and Century Country Club in Westchester County. The event raised nearly $270,000 for programs and services benefiting Calvary patients and their families.
In addition to the golfing, tennis and dinner, Calvary's event included an insightful after-dinner talk about Yogi Berra with Harvey Araton, a former New York Times sports reporter and columnist, as well as the author of the NYT bestseller. "Driving Mr. Yogi: Yogi Berra, Ron Guidry, and Baseball's Greatest Gift," and Dave Kaplan, founding director of the Yogi Berra Museum & Learning Center.
Each year, proceeds from this event's tennis portion support the Dennis Berberich Scholarship Fund. The 2016 honoree is Jodian Savizon, who has worked as a Calvary Care Technician for the past 11 years. She will use her scholarship to begin studying for her nursing degree at The College of New Rochelle. Inspired by Jodian's commitment to patient care and her professional aspirations, a first-time anonymous donor to Calvary, who attended the Golf & Tennis Classic outing, offered to pay for her nursing school tuition.
About the Company:
For more than a century, Calvary Hospital has been the nation's only fully-accredited, acute care specialty hospital devoted exclusively to providing palliative care to adult patients with advanced cancer and other life-limiting illnesses. More than 6,000 patients are cared for annually by Calvary's inpatient, outpatient, home care, hospice, and wound care services. Inpatient care is offered at their 200-bed facility in the Bronx and 25-bed Brooklyn Satellite at NYU Lutheran. Calvary Hospice provides short-term inpatient care at The Dawn Greene Hospice, located at Mary Manning Walsh Home in Manhattan. To learn more or sign up for the e-newsletter, Calvary Life, please go to http://www.calvaryhospital.org.