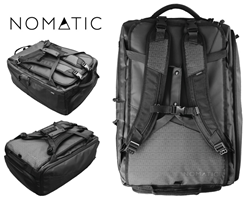 We're thrilled that so many people around the world are excited about the versatility of our Nomatic Travel Bag, and like us they see Nomatic as a way to make their travel experiences better
Salt Lake City, UT (PRWEB) August 09, 2016
The Nomatic travel bag has become the most funded travel bag ever, surpassing the previous Kickstarter record of $707k. Nomatic has raised over $760,000 (and counting) from over 4,200 backers.
With 23 days of discounted prices remaining on Kickstarter, the Nomatic travel bag is over 3800% funded. Nomatic has skyrocketed in popularity thanks to 20 ingenious features ranging from multiple compartments designed to carry laptops, tablets, notebooks and water bottles, to sections that keep shoes and soiled garments separated from clean clothes.
"We're incredibly grateful to our thousands of backers who have made our travel bag a reality by helping raise over $760,000 with lots of time remaining for us to become a rare million-dollar plus campaign," said co-founder Jacob Durham. "We're thrilled that so many people around the world are excited about the versatility of our Nomatic Travel Bag, and like us they see Nomatic as a way to make their travel experiences better."
Success is nothing new for Durham and fellow co-founder Jon Richards who previously raised nearly $600,000 with popular wallet and notebook products but their travel bag has become their biggest hit ever, by combining the best elements of a backpack, duffel bag and carry-on luggage they have created "the world's most functional travel bag."
The Nomatic Travel Bag is available at reduced prices until September 1. To see a full list of features and to pre-order at discounted prices, please visit: https://www.kickstarter.com/projects/1131502390/the-nomatic-travel-bag
About Nomatic
Originally named BASICS when founded in 2014 by cousins Jacob Durham and Jon Richards, the company launched its first project on the crowdfunding website Kickstarter – the BASICS wallet. After raising $171,000 for the product, the pair quit their day jobs and focused on developing travel and work related products with innovative designs and functionality. The BASICS wallet was followed by the BASICS Notebook, which raised nearly $400,000 in crowd-funding on Kickstarter. The company, based in Salt Lake City, changed its name to Nomatic to be more reflective of the range of products it produces for the consumer market. For more in-formation about the company's range of products, visit http://www.nomatic.com.