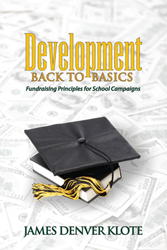 Schools of all types are facing difficult funding challenges with annual, capital and planned giving efforts.
Falls Church, Virginia (PRWEB) August 18, 2016
Established in 1905, Ward, Dreshman & Reinhardt's (WD&R) specialty is providing full-time, on-site fundraising counsel. WD&R concentrates its services to schools and other non-profit organizations. In its long history, this firm has directed nearly 8,000 capital campaigns raising over $3 billion. This international firm is headquartered in Falls Church, Virginia.
James D. Klote, President & CEO of Ward, Dreshman & Reinhardt, announced today the release of the recently published book, "Development: Back to Basics." The book provides an inside look at the complexities of academic Capital Campaigns provided by the expert in full-time, resident-directed school fundraising consulting. Learn why the Ward Dreshman & Reinhardt method of conducting a Capital Campaign will result in both higher contributions and increased school spirit. Learn why most school campaigns are hampered in their ability to raise significant funds and ways to avoid this. This book provides a roadmap on how to achieve success with a trained consultant's guidance.
Mr. Klote explains that virtually all schools require additional assistance with fundraising today more than ever. "Schools of all types, including independent, charter, elementary, and high schools are facing difficult funding challenges with annual, capital and planned giving efforts. It is because of these challenges that WD&R is providing the necessary information to assist these institutions to be more competitive. For this reason, WD&R is offering complimentary copies of this new book," explains Klote. The book is a complimentary download at http://www.wdrincorp.com/complimentary-book-form.
The full-time approach employed by WD&R combines personal attention and a proven method of successful fundraising. The Director relocates to the community of the client for the duration of the campaign and provides full-time access to WD&R's expertise and guidance.
WD&R provides all of its clients a "Certificate of Guarantee" regarding the services of the firm and achievement of campaign results. For more information on services, visit http://www.wdrincorp.com/how-we-work.