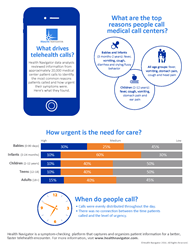 Health Navigator analysts reviewed nearly 20,000 patient interactions at a medical call center to explore the top reasons people want medical assistance.
La Grange, Ill. (PRWEB) August 09, 2016
Health Navigator announced today the release of a data analysis showing the top reasons people contact medical call centers for advice. The data analysis was based on approximately 20,000 patient calls logged through the Health Navigator natural language processing engine to convert patient free-text into coded chief complaints. This information can help health care facilities better plan their workflow and staffing, while influencing patient education and follow-up needs.
The results of the Health Navigator data analysis address the top chief complaints for patients of different age groups, what time people call, and urgency rankings for recorded calls, and can be found on the Health Navigator website: http://www.healthnavigator.com.
"Understanding why and when people call for medical help allows medical call center leadership and telemedicine providers to prepare for patient interactions, conduct targeted staff training and improve patient education," said Jeffrey Schwartz, MD, president of Health Navigator. "This analysis reveals the primary complaints for key patient age groups, including babies and infants, children, and teens and adults. Collecting and analyzing this type of data is one of the many benefits of telehealth technology to the health care system."
Highlights from the Health Navigator call center data analysis include:

For babies and infants, the top five reasons for contacting a medical call center were fever, vomiting, cough, diarrhea, and crying/fussy behavior. About one third of calls from parents for children of this age group were higher-risk, with a high urgency ranking.
For children, the top five reasons for calling were fever, cough, vomiting, stomach pain and ear pain. Less than 10 percent of these cases were high risk, but more than half had a moderate risk level.
Looking at the data across all age groups, the top five reasons for calling were fever, vomiting, stomach pain, cough and head pain.
In cases of teen and adult callers, less than 10 percent of cases were high risk, and a majority of the cases were either low or moderate risk.
The data analysis also included the level of urgency compared to the time of contact. The time of day had no definite effect on the percentage of higher urgency calls.
"Telehealth, which is proving to be an efficient fit into physician workflows, often features virtual communication that allows clinicians to treat patients who don't have access to an in-person doctor visit or who aren't sure if one is necessary. Having technology that can be integrated into the health system to accurately and consistently triage patients can help providers deliver a more consistent and satisfying experience for patients," said Dr. Schwartz.
For more information about common chief complaints or to learn about Health Navigator, visit http://www.healthnavigator.com.
About Health Navigator
Based in La Grange, Ill., Health Navigator is a privately owned health information company that provides a sophisticated, comprehensive telehealth experience, from the chief complaint to the final diagnosis. The Health Navigator platform uses complex databases and a diagnostic engine to capture, organize and present a more efficient virtual encounter for health care providers, e-Health companies and patients. To learn more, visit http://www.healthnavigator.com.
Media Contact:
Barbara Tabor
(651) 450-1342
Barbara(at)taborpr(dot)com