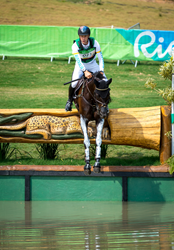 Burton said "my horse is very experienced so he took some longer options on the course, but he is so fast. I couldn't believe it….he is a rocket!"
(PRWEB UK) 9 August 2016
Australia, Eventing team gold medallists in Barcelona 1992, Atlanta 1996 and Sydney 2000, heads both the team and individual standings in Olympic Eventing after a day of cross-country thrills, spills and surprises at the Rio 2016 Olympic Equestrian Venue in Deodoro today, topping the teams on 150.3 and with Christopher Burton in pole position in the individual rankings with Santano II. But their neighbours from New Zealand are stalking them closely going into tomorrow's final showjumping phase, just 4.5 penalties adrift, with the French in hot pursuit in overnight bronze a further 6.2 off the pace.
Germany, London 2012 team gold medalists and leaders after the dressage leaders, dropped to fourth on 172.8, while the individual dressage leader, Britain's William Fox-Pitt plummeted from pole position to 22nd after a runout at the final element of the Ski Jump at fence 20 on a course that all the riders agreed was an enormous test. The statistics tell the tale of a tough day at the office, with nine of the 13 teams reduced to just three team-members, and USA and Russia no longer in contention after retirements and eliminations.
Only France and The Netherlands will have full four-member sides as tomorrow's action begins, provided all goes well in the early-morning horse inspection.
It was clear from the outset that the 33-fence track would prove hugely influential, and with three of the first eight riders biting the dirt it more than lived up to expectations.
Sam Griffiths got the Australians off to the perfect start however when cruising home with the lovely Irish mare, Paulank Brockagh, with only 6.8 time penalties to add to his dressage score, and when Burton and his super-talented nine-year-old, Santano ll, produced one of just three zero scores on the day then things were looking even better. That was reinforced by another great run from Stuart Tinney and Pluto Mio who put just 2.8 time penalties on the board, so even though Shane Rose was eliminated late on the track with CP Qualified they still went out in front at the end of the day.
With New Zealand pathfinder Tim Price out of the picture after a slip-up on the flat, the remaining Kiwis had no choice but to keep it together and they succeeded brilliantly, the legendary Sir Mark Todd (Leonidas ll), Clarke Johnstone (Balmoral Sensation) and Tim Price's wife, Jonelle Price (Faerie Dianimo) each collecting just time faults to leave them on a scoreline of 154.80.
Meanwhile Astier Nicolas (Piaf de B'Neville) set up the French with a fault-free run so they could drop the 50.40 collected by Karim Laghouag (Entebbe) who ran into trouble at the first of the two angled brush fences at 12. Team-mate Thibaut Valette (Qing du Briot) also faulted at this one but came home with a relatively modest 24.4 penalties to add while Mathieu Lemoine (Bart L), individually third after dressage, took a careful tour of the track, and the final team tally of 161.00 was good enough for overnight third.
The German dream of a third successive team title took a hammering despite a brilliant clear from defending team and individual Olympic champion Michael Jung (Sam) when Julia Krajewski (Samourai du Thot) was eliminated, so mistakes from Sandra Auffarth (Opgun Louvo) and Ingrid Klimke (Bob) had to be taken into account to drop the team from first to fourth.
But Jung (40.9 penalties) is stalking individual leader, Burton (37.6), very closely and with less than a single fence advantage, the 34-year-old Australian will be under extreme pressure tomorrow. Frenchman Nicolas is just 1.1 penalty points further behind in third while Kiwi, Todd (46.0) just shades America's Philip Dutton (Mighty Nice) on 46.8 and Boyd Martin (Blackfoot Mystery), 50.9 in fifth and sixth. Burton said his horse is "very inexperienced" so he took some longer options on the course, "but the horse is so fast. I couldn't believe it….he is a rocket!"
Sensationally, Brazil's Carlos Parro has rocketed up all the way from 33rd place after dressage to hold equal-seventh spot with New Zealand's Clarke Johnston (Balmoral Sensation). Riding Summon up the Blood, and on a day when so many of the major stars of the sport failed to find the key to the course set by Frenchman Pierre Michelet, the 37-year-old Brazilian, 236th in the world rankings, will be taking on the very best in the battle for Olympic glory. And his team is lying sixth, just a few points behind the Dutch, as the new day begins.
Team results: https://www.rio2016.com/en/equestrian-eventing-team-cross-country
Individual: https://www.rio2016.com/en/equestrian-eventing-individual-cross-country