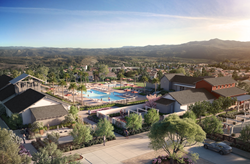 The Hilltop Neighborhood will open on September 25, 2016
San Juan Capistrano, CA (PRWEB) August 09, 2016
Starting at 9:00 am on Sunday, September 25, homeshoppers will be invited to tour more than 20 different model homes within the new Hilltop Neighborhoods at the inter-generational village of Esencia on the 14,000-unit Rancho Mission Viejo community in South Orange County, CA, announced Paul Johnson, Senior Vice President - Community Development for Rancho Mission Viejo, LLC. Home prices within The Hilltop Neighborhood's collection of six new neighborhoods are expected to range from the upper $300,000s to over $1 million.
Esencia is the second village to open on the new 23,000-acre ranch community of Rancho Mission Viejo (aka "The Ranch"), the largest new community in California, where approximately 75% of The Ranch is designated as preserved open space and the remaining 25% is identified for the phased development of multiple inter-generational villages.
Ultimately, Rancho Mission Viejo will offer approximately 14,000 homes for people of all ages, including up to 6,000 primarily single-level "Gavilan" homes offered exclusive to people age 55. In addition, Rancho Mission Viejo is planned to include sites for parks, schools, miles of multi-user trails, community farms, child care centers, places of worship, both all age and Gavilan-exclusive recreational clubhouses, as well as approximately 5 million square feet of non-residential uses including shopping, dining and employment centers.
The first village to be developed on The Ranch was the now sold out village of Sendero, which introduced both The Ranch's "Agrihood ™" (its collection of community farms) and established a new model for inter-generation living via its gated Gavilan enclave of primarily single-story homes for people age 55-plus.
The second village to debut on The Ranch was Esencia (Spanish translation: the essence), which sits atop some of the highest elevations on The Ranch. At build-out, the village of Esencia is planned to provide an integrated mix of 2,537 all age and Gavilan 55-plus homes for sale as well as apartment neighborhoods. The homes at Esencia will be offered in phases through collections of neighborhoods associated with key Esencia attributes and important social amenities.
For example, just last Fall, Esencia celebrated the grand opening of its initial offering of 840 homes within its Canyon House Neighborhoods, a collection of 12 neighborhoods by seven homebuilders centered around the Canyon House. A popular Esencia social amenity and gathering place, the Canyon House features Canyon Coffee, the Esencia Visitors Center, the indoor-outdoor Retreat, event lawn, courtyard, the meeting and art room at The Studio, and the adjacent Oak Canyon open space and trails which lead to the new Esencia Farm, the third working farm on The Ranch.
Topping 430 sales within just 10 months, the homes within The Canyon House Neighborhoods have exceeded sales projections – and are already more than 50% sold out. In addition, by eliminating the gates into Esencia's Gavilan 55-plus neighborhoods and integrating those neighborhoods into Esencia's all age neighborhoods, The Canyon House Neighborhoods have further evolved the model for inter-generational living on The Ranch. Currently, homes in The Canyon House Neighborhoods are priced from the high $400,000s to over $1 million.
"Positive homebuyer response to The Canyon House Neighborhoods reinforces our commitment to creating a true inter-generational Ranch community," said Johnson. "And, backed by strong home sales, we are now well-positioned to introduce our newest collection of all age and Gavilan 55-plus neighborhoods at Esencia starting next month."
On Sunday, September 25, five of the six new neighborhoods that encompass the Hilltop Neighborhoods at Esencia will debut to the homebuying public. Oriented around an inter-generational recreational and social amenity called The Hilltop Club, the Hilltop Neighborhoods for all ages will include the following:

Sage - townhomes ranging from 931 to 1,791 sq. ft. by Meritage Homes. Priced from the high $300,000s
Veranda – townhomes ranging from 1,681 to 2,254 sq. ft. by MBK Homes. Priced from the high $500,000s
Canopy – single family detached homes ranging from 2,153 to 2,799 by Warmington Residential. Priced from the low $700,000s
Briosa – single family detached homes ranging from 3,069 to 3,502 sq. ft. by William Lyon Homes. Priced from the low $1 millions
The Gavilan 55-plus homes within The Hilltop Neighborhoods will include the following:

Arista – primarily single story detached homes ranging from 1,466 to 1,876 sq. ft. by Del Webb Homes. Priced from the $600,000s
Iris – primarily single story detached homes ranging from 1,729 to 2,340 sq. ft. by CalAtlantic Homes. Priced from the $600,000s (Opening Fall 2016)
Combined, the six homebuilders will offer 522 homes for sale within six different and brand new Hilltop Neighborhoods terraced along hillsides to afford coastal views and territorial backcountry panoramas of the vast Rancho Mission Viejo.
The new neighborhoods will also be proximate to The Hilltop Club, now under construction and envisioned as the recreational and social heart of Esencia. The expansive Hilltop Club has been designed as a resort-style clubhouse with indoor-outdoor fitness and group exercise spaces, swimming pool, wading pool, spa, seasonal and special event bar with lounge seating, BBQ pavilion, bocce ball courts, game arcade, firepits, and a large lawn for community events, celebrations and gatherings.
Through the unique programming and services offered to all Rancho Mission Viejo resident via "RanchLife," fitness classes, health and wellness workshops, happy hours, club meetings and all sorts of events and activities at The Hilltop Club will be conducted to unite residents via their shared interests and abilities versus dividing them by age.
Johnson also noted that additional Hilltop Neighborhoods will consist of phased releases of homes now offered for sale by CalAtlantic Homes, Shea Homes and TRIPointe Homes in Esencia's Canyon House neighborhoods. The new homes will include elevated neighborhood locations around The Hilltop Club to afford spectacular view opportunities.
In addition to The Hilltop Club, Esencia residents enjoy access to a wide range of amenities now open including pools, spas, children's water play areas, clubhouses and recreational facilities in Sendero as well as several outdoor grilling and dining area, and The Outlook resort-style pool area open only to Gavilan 55-plus residents. Additional amenities now under construction and preparing to open over the coming months include The Campout with its tent platforms, BBQ grills, shade structure, tables and firepit, as well as the new Esencia Green, and South Paw Dog Park for four-legged friends. For Gavilan residents, Sunrise Park, Sunset Park, the BBQ Barn, and The Getaway will provide unique opportunities for picnics and other get-togethers with friends, family and neighbors.
Plans are also underway for The Pavilion, a multipurpose gymnasium with adaptable space for basketball, volleyball, and all sorts of cultural and social events. And, anticipated to open for instruction by Fall 2018 right next to The Pavilion is the new Esencia K-8 school (part of the acclaimed Capistrano Unified School District). Approximately 50 acres of commercial space has been allocated at Esencia for such uses as retail shops and services, restaurants, professional and medical offices, and more.
Esencia on The Ranch is located just 2.3 miles from downtown San Juan Capistrano and five miles from San Clemente and Doheny State Beach, with easy access provided to the employment and retail centers of Ladera Ranch, Mission Viejo, Irvine, Rancho Santa Margarita and other Orange County areas.
Rancho Mission Viejo, LLC is a privately held, family-owned and -operated company responsible for the ranching, farming, planning, development, and financial management of the remaining 23,000 acres of Rancho Mission Viejo, situated in unincorporated South Orange County, CA. Since 1882, members of the O'Neill/Avery/Moiso family have owned and managed The Ranch which once exceeded 200,000 acres and now includes the family-developed cities and communities of Ladera Ranch, Las Flores, Mission Viejo and Rancho Santa Margarita as well as such important places as Caspers Wilderness Regional Park, the Starr Ranch Audubon Sanctuary, O'Neill Regional Park and Marine Corps Base Camp Pendleton.
Development on The Ranch is a partnership between Rancho Mission Viejo, LLC (managing partner) and DMB Associates, an Arizona-based, diversified real estate company with commercial property/resort/recreational/primary home community holdings throughout Arizona, California, Hawaii and Utah.