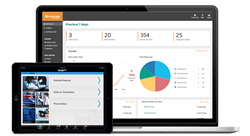 Minneapolis, MN (PRWEB) August 10, 2016
App Data Room, the leading enterprise mobile sales enablement platform, announced today it has completed a Series A round of financing led by Sopris Capital. The company will leverage this investment to expand its market presence and continue to broaden its global sales enablement capabilities.
The Series A financing is yet another milestone in an exceptional year for App Data Room, which focuses on sales enablement, content activation, and lead capture. It's feature-rich platform offers an easy-to-use interface that requires virtually no training or systems integration. This makes it a unique solution in the marketplace. As a result, the platform has driven more than 300,000 sales conversations in more than 41 languages between enterprise sales professionals and their customers.
"As active investors in enterprise technology, we immediately recognized this platform as a compelling solution to address major pain points for global sales and marketing organizations," said Jon Kaiden, president of Sopris Capital. "The team has built a truly innovative product, established a dominant market position as a strategic partner to their enterprise clients, and we are very excited to partner with them on this aggressive expansion program."
Additionally, the company will change its name to Modus Engagement, Inc. effective immediately. The name change reflects the company's broader commitment and expertise in driving the innovations needed to shape the future of sales and customer engagement through digital technology solutions.
"We've achieved significant growth since our start in 2013, and our business continues to accelerate," said Orrin Broberg, chief executive officer of Modus. "With this investment and the strategic input from Sopris Capital, we will continue to scale our sales and marketing teams while enhancing client support capabilities. This investment will also help us to continue evolving our platform to meet the ever-changing needs of our global customer base. The new name – Modus Engagement, Inc. – allows us to reflect more precisely what we do for our clients and who we are as a company. We are engaged in our work, life, and community and we couldn't be more excited for what the future holds."
About Modus Engagement, Inc.
Founded in 2013, Modus Engagement's App Data Room is the leading enterprise mobile sales enablement platform that assists global sales and marketing teams to organize, store, share, present, and track content. The platform is designed to be highly intuitive and integrates with core enterprise software systems for an entirely seamless experience. Enterprise marketing teams appreciate the insights generated from the platform and the ability to push the latest marketing content to their networks of sales reps, distributors and channel partners in an efficient manner. Today, App Data Room services tens of thousands of users globally. Learn more at: http://www.appdataroom.com
About Sopris Capital
Based in New York, Sopris Capital is a venture capital firm that invests growth equity in tech-enabled business services companies that are solving an enterprise-level pain point. Sopris seeks to be a value-added partner to fast growing companies that have a validated business model, proven product/market fit, and a management team that can capitalize on the opportunity ahead. Learn more at: http://www.sopriscapital.com