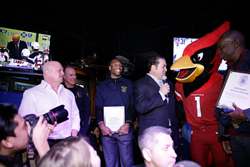 Peoria, AZ (PRWEB) August 22, 2016
Pro Player Health Alliance (PPHA) is an organization dedicated to helping treat former NFL players who suffer from obstructive sleep apnea (OSA). As a result these superstar athletes then become more than just patients, but every day people who publicly support and spread the awareness of OSA at events across the nation. With a combined effort of former NFL greats, local establishments and public figures, the community as a whole can unite to direct potential patients toward dental/medical professionals who can help.
Eight months ago PPHA promoted a sleep apnea awareness event based on that exact model with American Sleep and Breathing Academy Diplomate Dr. Mark Castle, DDS of Koala Center for Sleep Disorders - Arrowhead. The event attracted over 3,000 attendees and not only benefited the Phoenix Police Foundation financially, but it also lead to eight officers making appointments with Dr. Castle.
The next Pro Player Health Alliance event, aimed at improving awareness and understanding of sleep related disorders in the general public, is also a fundraiser to benefit the Phoenix Law Enforcement Association Charity. In addition, it will be the first official celebration to kick off the new season for the Arizona Cardinals, officially named, "Arizona Cardinals March to Super Bowl 51." Similar to the first event January 26, 2016, PPHA's second event in Arizona will again be with Koala Center for Sleep Disorders – Arrowhead and Dr. Beth Hamann of Koala Center for Sleep Disorders – Biltmore.
It is expected that this event will draw over a thousand attendees including special guests Cardinals RB David Johnson, Cardinals Legends Jet Stream Roy Green, Derek Kennard, Voice of the Cardinals Ron Wolfley, other current Cardinals players, the likes of Phoenix Suns greats Eddie Johnson, Truck Robinson and a surprise Megastar will be attending the event.
Roy Green has said, "If I had met David Gergen years ago, I may not have had to experience having a heart attack, let alone three heart attacks and two strokes. I am extremely grateful for what he's done for me and my former teammates and I'm glad to be a part of spreading awareness on sleep apnea so others don't have to go through what I did."
Pro Player Health Alliance President David Gergen, owner of Gergen's Sleep Appliance Lab and Executive Director of the American Sleep and Breathing Academy, is an icon throughout the dental sleep community and will be the MC for the event. Gergen will be on hand to help the public meet their favorite player and to share his extensive knowledge of sleep disorders including the dental treatment of sleep apnea.
"Over the years more and more retired NFL greats have contacted me regarding their sleep apnea. I am happy to refer them to a dentist or medical doctor who can help them. It became very obvious that the general population was having the same issue. Roy Green and I decided to help the retired players and improve awareness of sleep disorders by promoting large public events," said Gergen.
Event Details
Cowboys Saloon
9824 W Northern Ave
Peoria, AZ 85345
September 6, 2016
6:00 PM-Close
Visit Facebook.com/proplayerhealthalliance or marchtosuperbowl51.eventbrite.com to register