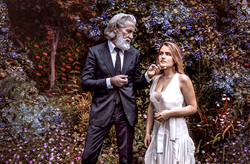 "The garden is the sixth character, a secret world, a beautiful place where bad things happen." Maxim Jago
London, England (PRWEB UK) 10 August 2016
Cutting edge psychological thriller Jolie's Garden deals with perception and permission in a single-room feature film exploring the themes of vulnerability and innocence. At the helm is award winning director Maxim Jago, shooting in 2D for International theatrical release with cinematography by Razaka Firmager, 360 Film for VR Headsets, and as live immersive theatre.
Jolie has lived in an underground garden her entire life, it's all she has ever known. There are two things she has never been told – the first is that the garden is artificial, the flowers are made of cloth, the grass is plastic. The second is that she's blind – no-one has ever told her people can see. Much loved and cared for by her parents and live-in nurse, Jolie has no idea she's a prisoner.
Citing Guillermo Del Toro's Pan's Labyrinth, and Tom Hooper's The King's Speech as inspiration, Jago plans a modern take on Plato's 'Allegory of the Cave'. A 'magical realism' aesthetic leads to an extraordinary environment that is nonetheless real. In promotional images, Aiden Brady wears a designer Sorapol suit, and Andrea Sweeney wears a dress by Vivienne Westwood.
Jolie's Garden is part financed by investors, part by a crowd funding Kickstarter campaign, with support from multiple sponsors including HP and Adobe, who are advising on 360 film workflow for hardware and software.
'It's an indie film production, and Jolie's Garden welcomes help from all comers - whatever is on offer, the answer is usually - yes please.' says Line Producer Ian Sharples. Jago agrees, 'What's most important is for people to share Jolie's Garden and come for the journey - it makes a big difference.' acknowledging the difference in studio-based and independent film marketing budgets.
"There's a debate about how to approach drama for VR headsets..." says Jago, "... but it's straightforward. VR works with the dramatic techniques of immersive theatre. This story works well for immersive theatre techniques, party because of the 360 degree set."
An original soundtrack with live orchestration is provided by Patrick Cannell, with audio mixing provided by seven-time Emmy award winner Alberto Moreno.
Like father like son: Malcolm Hobbins (1936 – 2005) was a playwright, poet, and choreographer. He wrote 'The Garden' as a stage play years before agreeing to adapt it to the screen for his son, Maxim Jago, to base a film on it. Hobbins never finished the adaptation, and it was completed by Jago, who inherited his father's literary rights.
Announcing Aiden Brady as Kline: A British actor, musician, author and well-known GQ model. Brady notes "It's thrilling to work on this challenging project. Kline is a unique character and Jolie's Garden promises to be an exciting journey with Maxim and the team".
Introducing Andrea Sweeney as Jolie: A multi-award winning actress fluent in Spanish with a keen ear for dialects. Commenting on her role, Sweeney says "This is a dynamic production. It's so rare to perform for the camera and live audiences in a single project – it's a unique opportunity for any artist to be a part of".
More info at joliesgarden.com
Website: http://www.joliesgarden.com
Facebook: http://www.facebook.com/joliesgardenfilm
Twitter: @JoliesGarden
Instagram: JoliesGarden
Press contact: Simona Sakalauskaite - press(at)joliesgarden(dot)com