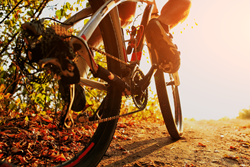 Foregoing investments in technology to avoid debt may not be the best business decision.
Hoboken, NJ (PRWEB) August 09, 2016
A NYC area business technology consultant and MSP discusses the differences between good and bad debt for business owners in an informative article on the company's website, offering a workout pain analogy and examples of the benefits of using debt to finance investments in technology.
Business leaders are encouraged to understand the advantages of appropriate debt, which include freeing up cash to grow the business and increasing productivity and security by upgrading technology.
"Successful companies understand the power of technology in gaining a competitive edge, reaching customers more effectively and creating robust, long-term growth," stated Carl Mazzanti, CEO, eMazzanti Technologies. "Foregoing investments in technology to avoid debt may not be the best business decision."
Below are a few excerpts from the article, "Business Conditioning: Smart Debt Builds Muscle."
"Athletes know the vital difference between "good pain" and "bad pain." When your legs burn as you cycle up an insanely steep hill, you know that your muscles are growing stronger. Likewise, the successful business owner understands the difference between good debt and bad debt."
"Using smart debt to invest in technology can boost productivity and security, increasing the capabilities needed to achieve key business goals. For instance, a well-configured business intelligence system can provide the analytics that will help executives make more informed decisions on where to focus efforts."
"In addition, leasing network and computer equipment can be a great way to stretch your budget dollars to take advantage of the latest technology and ensure the security of vital customer and company data. The Initial cash outlay is reduced, and the equipment will never become obsolete."
"While you need to carefully balance the opportunity costs with the credit risk as you determine the investments that make the most sense, embrace smart debt as a useful tool to build business muscle. Of course, check with your financial advisor before incurring new debt obligations," the article concludes.
Related Resources
4 ways your small business can embrace innovation
About eMazzanti Technologies
eMazzanti's team of trained, certified IT experts rapidly deliver cloud and mobile solutions, multi-site implementations, 24×7 outsourced network management, remote monitoring and support to increase productivity, data security and revenue growth for clients ranging from law firms to high-end global retailers.
eMazzanti has made the Inc. 5000 list 7 years running, is a 2015, 2013 and 2012 Microsoft Partner of the Year, and a 5X WatchGuard Partner of the Year. Contact: 1-866-362-9926, info(at)emazzanti(dot)net or http://www.emazzanti.net Twitter: @emazzanti Facebook: Facebook.com/emazzantitechnologies.