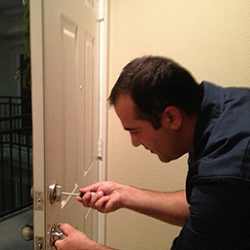 (PRWEB) August 12, 2016
There has been an alarming increase in burglaries in the city of San Diego, CA over past few years. Local law enforcement agencies are deeply concerned about the rising number of burglaries in the city, and have suggested that residents install high security locks and have a security audit performed on their homes and businesses.
Local locksmith company Prestige Locksmith has responded to the calls of law enforcement agencies, and now offers complimentary security audits to all residents of San Diego County.
Prestige Locksmith was established in 2006, and is the leading provider of residential, commercial, emergency, and automotive locksmith services in San Diego. Prestige Locksmith owner, Avishay Lavy, said that the company has served thousands of residents, and hopes to reach out to even more residents through their new complimentary security audit services.
Mr. Lavy added, "By offering complimentary security audits, we hope to better serve San Diego residents in their residential and retail establishments. We have hired new technicians, who are certified to install building access control products such as biometric locks, magnetic locks, and card readers. We install only the most sophisticated high security locks."
Mr. Lavy also spoke about the need to replace old locks with new high security locks. "Don't use inferior or imitation locks for your home or commercial establishment that you can buy off the shelf. You can trust Prestige Locksmith to provide only the best and latest high security locks, such as Mul-T-Lock deadbolts or Medeco Locks. We guarantee 100 percent customer satisfaction, high security, and affordable rates."
About Prestige Locksmith
Prestige Locksmith is a leading provider of residential, automotive, and commercial locksmith services in San Diego, CA. The company offers home security consultations, high tech security systems installation, and key cutting services. Prestige Locksmith has mobile locksmith vans to take their locksmith services directly to their customers for all residential, commercial, and emergency locksmith services.
Prestige Locksmith can be reached day or night at (858)353-7430. Please visit their website http://www.sandiegocitylocksmith.com to learn more.
Contact:
Avishay Lavy, Owner
owner(at)sandiegocitylocksmith(dot)com
(858)353-7430