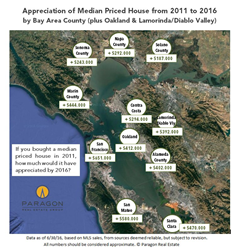 The Oakland median house price is up a staggering 178 percent since 2011, partly because it crashed so low. San Francisco, more expensive and affluent, had a much smaller bubble and crash.
San Francisco, CA (PRWEB) August 10, 2016
Paragon Real Estate Group announces the release of its Bay Area Real Estate Market Survey, which reveals median home prices have surged 50 to 178 percent since 2011, depending on location.
"There are significant differences in how these events played out in distinct markets," says Patrick Carlisle, Chief Market Analyst of Paragon Real Estate Group, "For example, Oakland had a very large subprime bubble, a huge crash, and then a sensational recovery highly pressurized by being just across the bridge from SF (and much more affordable). The Oakland median house price is up a staggering 178 percent since 2011, partly because it crashed so low. San Francisco, more expensive and affluent, had a much smaller bubble and crash. Then the high-tech boom then supercharged its recovery: Its median house price is up 93 percent from the bottom hit in 2011."
The survey also considers issues such as housing affordability trends, demographic changes, competitive overbidding, and the luxury home segment in counties around the Bay Area. "Another factor beginning to impact local markets is the increasing amount of new home construction, perhaps illustrated best by the surge of new luxury and ultra-luxury condo projects in San Francisco."
For the full report, please visit: http://paragon-re.com/Bay_Area_Market_Survey
About Paragon Real Estate Group
Paragon is a locally owned and managed real estate company in the Bay Area that conducts business across all market segments – residential and luxury home sales, investment and commercial property sales and leasing, new home sales and rentals. Having completed its 11th year in business, Paragon currently brokers over $1.9 billion in annual Bay Area real estate sales.
Visit: http://www.Paragon-RE.com , 1400 Van Ness, San Francisco, CA. 94123. 415-738-7000