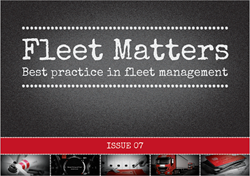 Our long experience in helping with vehicle management allows us quickly to identify the news that will most affect commercial road users.
(PRWEB UK) 11 August 2016
Time-starved fleet managers will welcome the new online Fleet Matters for its timely advice on five key issues affecting them. The Fleet Matters series of e-books from Fuel Card Services sifts the constant news tsunami to identify the most important topics.
It summarises them, giving clear advice on any necessary action in each case. The latest Fleet Matters covers specific recent news concerning duty of care, responsibility for additives, driver safety, truck platooning and fuel cost management.
Fleet Matters gives invaluable guidance for every size and type of fleet, including owner-drivers with single vehicles. It offers information of relevance to both private and public sectors and is equally useful to owned, leased, 'grey' and mixed fleets. A single edition covers five important, current topics individually. Each section concludes with a clear, concise 'Action Point' showing how fleet managers should address the issue.
Steve Clarke, group marketing manager, said, "Our long experience in helping with vehicle management allows us quickly to identify the news that will most affect commercial road users. Fuel Card Services works with a variety of fleets every day, from public sector transport managers with hundreds of mixed vehicles to private sector fleets with just a van or two. Our insight into the issues, from legislation to market pressures, derives from talking with fleets all the time. The breadth and depth of expertise built over many years enables us to offer guidance of real value."
Fleet Matters readers easily find any topic's key points, with best practice advice, within a compact space. Some information may already be familiar, but most readers find something new and valuable in every edition. It carries no advertising or promotional content, just straightforward facts and advice to aid managers in running fleets more effectively. The new edition is available online, free, at http://www.fleet-matters.co.uk