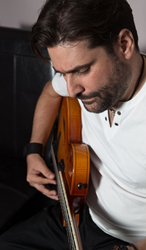 Homestead/Miami, FL (PRWEB) August 11, 2016
Music is a way of life for Eddie Trujillo. "I've been playing professionally for 12 years, but I've been involved with music for the last 20 years," he says. "I love writing music and doing arrangements, and I'm always listening to music, even when I'm not at work." When his disability began to make it difficult to play the guitar, Eddie feared he would no longer be able to do the work he loved.
Eddie has Spinal Muscular Atrophy, a genetic condition that affects the nervous system. Spinal muscular atrophy can make it difficult to perform many daily life activities, including breathing, swallowing, or walking. Since Eddie has trouble walking, he uses a wheelchair -- but the chair he was using didn't give him the mobility he needed in his job as a music director at Good Samaritan Church in Homestead.
At the suggestion of a friend, Eddie reached out to Vocational Rehabilitation (VR), a federal-state agency that helps people with disabilities get or keep jobs. VR provided Eddie with a new wheelchair specifically designed to help him at work. The chair raises him up so he is able to stand while he plays the guitar, and includes an elevating leg lift so he can access the amp controls for his guitar with his feet. VR also modified his van to include a lift and ramp, along with an easy lock system to attach the new wheelchair to the van for safe driving.
The van and wheelchair have helped Eddie in both his professional and personal life. "They help me get around, and that's important since I'm always traveling as a musician," says Eddie. "I just got back from the Dominican Republic, and I'm going to Cuba next. I wouldn't be able to do that without the van and the chair."
The new assistive devices not only help him keep up with his career, they also help him keep up with his five-year-old daughter. "I love spending time with her," he says.
Eddie's VR Counselor, Marie Sikah, is not surprised by Eddie's continued success. "He was very patient and understanding during the whole process," she says. "He has the emotional stamina for independence. He tries very hard and is very dedicated."
In the future, Eddie hopes to continue his career at Good Samaritan Church, where he has been working since 2002. He believes that his 13 years of employment are proof that people with disabilities can be long term employees.
"I think that most employers are worried that a person with a disability won't last long term. They'd be surprised," says Eddie. "People with disabilities try to go beyond what they can do, maybe because they feel like they have something to prove. You can't underestimate someone just because of their disability."
About Vocational Rehabilitation
Florida's Vocational Rehabilitation (VR) is a federal-state program committed to helping people with disabilities become part of America's workforce. The employer-focused website, https://abilitieswork.employflorida.com/, allows businesses to search at no charge for employees who are ready to go to work, as well as to post available jobs. VR has 90 offices across Florida, and last year helped 5,760 Floridians with significant disabilities find or keep a job. For more information about VR and its services, call (800) 451-4327 or visit http://www.Rehabworks.org.