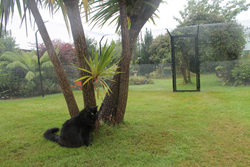 UK Domestic Cats Kill 55 Million Birds Each Year
Stoke-on-Trent, UK (PRWEB UK) 10 August 2016
The Australian government is set to impose a 24-hour cat curfew in order to protect native animals that are at risk of extinction due to the number of cat attacks. Cat owners will be forced to keep all their cats indoors if the curfew is imposed. The government is calling for public support for 24-hour containment, which is already in place in some areas of the country.
Many UK pet owners already choose to keep their cats indoors on a permanent basis in order to protect the local wildlife here in the UK. ProtectaPet, the UK's leading providers of cat containment systems, provide their customers with cat runs that allow UK pets to have safe access to the outdoors whilst protecting the wildlife and keeping the cats safe from danger.
Eve Davies, Communications Director at ProtectaPet says, 'Many of our customers choose to contain their cats to keep them safe. One of the added benefits, however, is that within a controlled territory, cats' access to birds and endangered voles is restricted and they are much less likely to kill or maim native British species. While we have protected 1000s of cats with our cat enclosures, we must have saved many times that number of wildlife.'
Cats are excellent hunters and they continue to hunt and kill animals, even if they are very well fed at home. The Cats and Wildlife report estimated that approximately 55 million birds are killed by domestic cats in the UK alone. The RSPCA also published details collected by the Mammal Society, which reported that UK cats kill up to 275 million prey each year, which includes the 55 million birds. The exact figures are unclear as many cats catch and kill animals but don't bring them home. Despite these high figures, the RSPCA state that there is no current evidence to suggest cats are having an impact on the decline of birds here in the UK.
It is believed that Australia has one of the worst extinction levels in the world, with cats killing an estimated 75 million native animals each day. There are currently 1,800 species considered to be under threat. Australia is struggling to cope with the huge number of cats and is now facing a desperate cat crisis. To cope with the crisis the Australian government have also proposed a cat cull that will end the lives of 2 million cats in addition to the 24-hour curfew.
ProtectaPet provide many cat containment solutions that have been designed to keep cats safe and that help to reduce hunting opportunities. They are the leading cat containment experts in the UK and have been voted 'Cat Product I Can't Live Without' two years running by the readers of Your Cat Magazine.
Please direct all media enquiries to Eve Davies, info(at)protectapet.com and visit http://protectapet.com for further information..