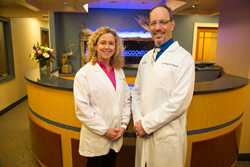 Westerly, RI (PRWEB) August 09, 2016
Patients with missing teeth can now visit Drs. Gregory Toback and Marianne Urbanski's new state-of-the-art Westerly, RI office location for dental implants. This high-tech office is equipped to offer patients a wide variety of cutting-edge treatment options for their oral care needs including implants. Dental implants are a long-lasting tooth replacement option with unparalleled advantages in esthetics and oral health improvements.
Dr. Toback has been an honored speaker for numerous organizations on a variety of topics including computer guided implant surgery and utilization of 3D imaging in diagnosing and planning dental implant treatment. Dr. Marianne Urbanski, author of "Mind and Medicine: In Harmony for Healing," shares her passion for the connection between the body and the mind with each of her patients. Together, Drs. Toback and Urbanski consider the latest techniques and technology highly instrumental in providing successful care to each patient at their two office locations in Westerly, RI and New London, CT, including those receiving dental implants.
Over 170 million Americans are missing at least one tooth, according to the American College of Prosthodontists. Tooth loss can occur for a variety of reasons. One of the most common causes of missing teeth is advanced periodontal disease; however, tooth loss may occur due to traumatic injuries, old age and genetic predisposition or disease. Those who are interested in receiving dental implants in Westerly, RI as a long-term tooth replacement option are now welcome to visit Drs. Toback and Urbanski's new state-of-the-art office location.
Drs. Toback and Urbanski perform a comprehensive and detailed examination of the treatment area prior to establishing a recommended treatment plan for new patients with missing or damaged teeth. To qualify for implants, patients must have a proper bone density level and the Shoreline Periodontics team determine a treatment strategy that meets each patient's needs before pursuing implants. Each dental implant is placed using a strong titanium post into the jaw bone that becomes bonded with the bone, building strength and reliability. After each area has healed, posts are fitted with customized natural-looking crowns to blend with surrounding teeth and form a unique and appealing smile.
Individuals interested in receiving dental implants in Westerly, RI to replace their missing teeth are invited to visit with Drs. Toback and Urbanski and their team at Shoreline Periodontics. Consultations and appointments may be scheduled by calling 401-622-4661 or by visiting their website at http://www.shorelineperio.com.
About the Doctors
Shoreline Periodontics is a periodontal practice offering personalized dental care for patients in New London, CT, since 1998. Leading periodontist, Dr. Gregory A. Toback, received his B.A. from St. John's University and his Doctorate of Dental Medicine from the University of Connecticut. He also received advanced training in periodontics and dental implants at the University of Texas Health Science Center in San Antonio. Dr. Toback focuses on minimally invasive surgeries, offering the LANAP® protocol and belongs to a small group of dental professionals currently providing the Chao Pinhole Surgical Technique™ for treatment of gum recession. Dr. Marianne Urbanski has been voted one of Connecticut's top dentists for more than seven years by Connecticut Magazine. Dr. Urbanski graduated cum laude from the College of Holy Cross in Worcester, Massachusetts where she earned a Bachelors' degree in Biology. She also received her Doctor of Dental Medicine degree and her Masters' of Dental Science degree from the University of Connecticut Dental School. Dr. Urbanski prides herself on offering caring, professional care to each patient. To learn more about Shoreline Periodontics and their dental services visit their website at http://www.shorelineperio.com and call (860) 333-1531.