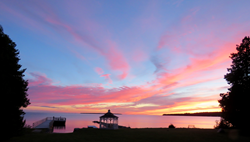 almost everything currently taught about managing people, opportunities and goals is wrong
SAINT IGNACE, Mich., August 9, 2016 (PRWEB) August 11, 2016
A 68-year-old family compound/rustic estate on the northern shore of Lake Michigan in the Straits of Mackinac will become the first ever corporate retreat with a "built-in" business mentor/advisor.
Entrepreneur and business author Jim Plouffe, the creator of this new concept, bought this serene location originally for his employees and their families to use at their leisure. It also served as a company retreat where Jim and his employees develop serious thoughts, innovations and strategies that allow them to dominate their market.
The new concept will allow smart business leaders, in top companies to profit from having access to a corporate retreat like Jim did. To participate, Business Owners, CEO's and Presidents will have to apply for private membership, similar to a country club, except everyone in the company can benefit and enjoy the resort on a reservation basis. Initially, Jim will select seven companies to ensure enough access to the resort. As part of the membership, Jim will mentor up to four members of each company's leadership team.
Jim was an entrepreneur creating jobs and signing payroll checks before he was old enough to vote. Starting with an investment of only $1,750, he was able to retire at 46. His first rule of business success, found in his book, is "Never take advice from someone who hasn't done what you want to do."
He thinks it is more important to have an advisor/mentor that has made millions rather than to listen to someone who just talks about making millions. He knows, "If you truly believe that your people are your greatest asset, then you and your business are your employees' greatest asset." Jim says, "everyone forgets how interdependent we are." He knows that most of what leaders have been taught and told about managing people and organizations is wrong stating, "following the crowd never creates big wins for companies, leaders or employees."
The Think Outside Retreat consists of four guest cottages with a total of 10 modern, comfortable bedrooms. The cottages at the resort/retreat will be open to anyone from the company that management sends to work or play, or maybe a little bit of both. It is also the perfect setting for serious off-site meetings from 2 to 200. Saint Ignace has good local infrastructure with plenty of restaurants and services.
Jim's vision for Think Outside is about creating a safe environment for learning and creating common sense business advice that works. It's also about creating a place to play, relax, revitalize and reconnect with spectacular lakeside sunsets, and candid conversations around the campfire. Think Outside is about increasing performance for all employees.
To participate in this game changing concept contact: jim(at)ThinkOutsideNoBoxNeeded(dot)com.
ABOUT –
Jim Plouffe is a self-made multi-millionaire, an avid car collector and Disney memorabilia collector. Jim also writes a weekly business column in the Saint Ignace News and is the author of, "If I Was Going There I Wouldn't Want to Start from Here" (The Millionaires' Manual for Business Success). He has a contrary way of thinking about most business challenges teaching business owners and CEOs how to throw away outdated management principles and focus on his three simple disciplines. These disciplines caused his company to grow over 32% a year, compounded for ten years in a row. Contact: Jim Plouffe jim(at)ThinkOutsideNoBoxNeeded(dot)com