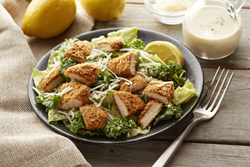 Consumers who tested Gold'n Plump Shakers loved the no-touch, healthy, semi-scratch and less-mess and versatile attributes.
SAINT CLOUD, Minn. (PRWEB) August 10, 2016
Gold'n Plump®, the flagship brand of the Midwest's leading chicken producer GNP Company®, is adding a new line of fresh, three-step prep chicken breast strip kits that provide high quality meals and snacks in under 20 minutes. The new Gold'n Plump SHAKERS™ line fits perfectly within the growing semi-homemade food trend that grocery expert Phil Lempert calls an "unbelievable opportunity" for grocery retailers.(1)
Gold'n Plump Shakers are made from 100 percent whole muscle boneless skinless chicken breast meat raised with No Antibiotics–Ever. Each kit features a packet of bold, on-trend seasoned breading made with popular Panko breadcrumbs and adventurous and ethnic flavors of Savory, Sweet Chili, Jamaican, Honey Barbeque, or Chipotle Adobo. The new products are scheduled to begin shipping in early September 2016 and begin appearing on-shelf mid-month—just in time for back-to-school and the seasonal shift to more indoor cooking.
"The value-added meat category continues to grow as nearly half of consumers, particularly millennials, plan last-minute meals," says Tracy Miller, Gold'n Plump Director of Product Innovation & Management. Studies show consumers desire convenience along with the experience and enjoyment of making food themselves.(2,3)
IRI data reported in the Power of Meat 2016 indicates the value-added meat category has grown 6.4 percent to $4 billion in sales over the past year. And fresh chicken nuggets lead the nugget category growth, up 25 percent in dollars and 39 percent in pounds versus last year.(4) "Fresh, ready-to-cook chicken products offer more preparation involvement with very little extra work, plus superior quality and flavor compared to similar frozen products," Miller explains.
Unlike most other breaded chicken products, Gold'n Plump Shakers are sold fresh with no added solution, preservatives or artificial flavors, plus they are lower in sodium than many competitive products. Each 20-ounce kit includes 16 ounces of fresh, whole muscle chicken breast strips in an easy-to-open pouch, 4 ounces of seasoned breadcrumbs, and a zip-seal bag for shaking. Consumers simply open the kit, pour the strips and seasoned breadcrumbs together in the bag, zip shut, shake and then bake. There's no need to touch the chicken and the kit is designed for less mess. Bold colors on packaging differentiate flavors for simpler selection. The Gold'n Plump Shakers product is sized just right for light meals or snacks for five people.
"Consumers who tested Gold'n Plump Shakers loved the no-touch, healthy, semi-scratch and less-mess and versatile attributes," Miller explains. The new line also offers the raised with "No Antibiotics–Ever" attribute, which is important to 36 percent of chicken shoppers when buying chicken, and the American Humane Certified seal, a humanely raised label claim that encourages purchase for 33 percent of chicken shoppers.(5)
Each variety of Gold'n Plump Shakers can be priced the same with a competitive suggested retail price of $5.99 per 20-ounce kit. The launch will be supported by monthly trade promotions, and a strong consumer marketing push that will begin once products are on-shelf. The entirely new consumer campaign introduces a new advertising character to help educate consumers on how to make the product. Marketing support will also include in-store elements (demos and $1.50 instant redeemable coupons on-pack); video, print, radio and digital advertising; FSI couponing; mobile couponing; and social media promotions.
###
1 Supermarket Guru Phil Lempert Explains Semi-Homemade, Food Navigator, July 29, 2015
2 Reaching Millennials through Packaging, Packaging World, June 3, 2013
3 The Millennial Impact: Food Shopping Decisions, Mintel, September 2015
4 Nielsen Total U.S., 13 weeks Ended 04/02/16
5 Gold'n Plump® Chicken Labels Insights Study, conducted online by Qualtrics March-April 2016 of 1,000 U.S. consumers aged 18+, who regularly purchase fresh, uncooked chicken and do the majority of their household's grocery shopping.
About GNP Company® | Dedicated to Healthy Food, Families & Farms.
Based in St. Cloud, Minn., GNP Company is a provider of premium branded and custom chicken products to retail, deli and foodservice customers nationally. Founded by E.M. Helgeson in 1926 and purchased in 2013 by Maschhoff Family Foods, GNP Company remains family-owned. It distributes products under the Just BARE® and Gold'n Plump® brand names. Together, the company's more than 1,700 team members and 360 family farm partners in Minnesota and Wisconsin provide enough chicken for about 5 million consumers annually. For more information about the company and its mission of "dedicated to healthy food, families and farms," visit GNPCompany.com.
About Gold'n Plump Chicken®| Good Chicken is Our Mission®
Gold'n Plump® is distributed nationally by St. Cloud, Minn.-based GNP Company, a provider of premium branded and custom chicken products to retail, deli and foodservice customers. The brand's good chicken mission centers on being truly all natural, highly trimmed and free of unwanted solution, skin and parts. The Gold'n Plump All Natural line also boasts attributes of No Antibiotics-Ever and American Humane Certified. To learn more about the Gold'n Plump brand and its products as well as find great recipes, general cooking and safe handling tips and nutrition information, visit GoldnPlump.com. Follow Gold'n Plump on Facebook, Twitter, Pinterest and YouTube.