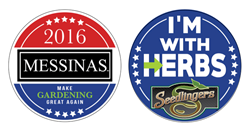 Everyone knows that passions are running deep this political season, but we plan to have some fun by tapping into those emotions and giving people a laugh along the way
Washington, NJ (PRWEB) August 10, 2016
Messinas, a New Jersey based manufacturer of lawn and garden products, today announced a political satire themed trade show promotion for the 2017 show season that is sure to get attendees' attention with campaign themed buttons that should make most people do a double-take. The campaign pokes fun at both sides of the aisle while bringing attention to both the Messinas and Seedlingers brands with a play on the candidates' most familiar tag lines: the Messinas campaign button reads "Make Gardening Great Again" while the Seedlingers campaign button reads "I'm With Herbs."
Aligning the campaign slogans to the two very different brands was easy for company Vice President, James Messina, and having fun in an industry slow to change is something the company has a built a reputation on for years. "Everyone knows that passions are running deep this political season, but we plan to have some fun by tapping into those emotions and giving people a laugh along the way," said company VP James Messina.
Attendees will be able to show their support for one or both campaigns by scooping up these give-a-ways at any number of the Messinas trade show booths from coast to coast at shows including: Central Garden & Pet, Orgil, Intermountain Farmers Co-Op, Griffin Greenhouse Supply, VG Supply, Prince, Arett Sales, Bradly Caldwell, Garden Writers, True Value, GardnWise, Southern States/AGWAY, Steel City Supply, HB Davis, L&L and more!
About Messinas
Messinas, founded in 1998, manufactures a variety of lawn & garden products including animal repellents, plant health tools, weedkillers and more under the Animal Stopper®, Invisitraps™, Plotsaver®, Pulverize™ and Seedlingers™ trademarks. The company is headquartered in New Jersey, with multiple regional offices around the United States.