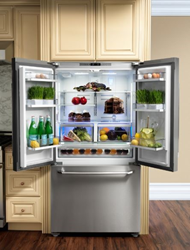 The Distinctive 36-inch Counter-Depth Refrigerator was strategically designed with features specific to the needs of the homeowner who enjoys hosting guests
Los Angeles, CA (PRWEB) August 10, 2016
Dacor®, a leading manufacturer of ultra-premium kitchen appliances, announces the release of a new luxury product—the Distinctive® 36-inch Counter-Depth Refrigerator. This ENERGY STAR® certified refrigerator expands Dacor's home entertaining offerings with the capability to produce 11 pounds of ice per day—the largest ice capacity for any refrigerator in its class.
"The Distinctive 36-inch Counter-Depth Refrigerator was strategically designed with features specific to the needs of the homeowner who enjoys hosting guests," said Dacor President and CEO Chuck Huebner. "Whether you are cooking for an intimate dinner party or a family reunion, our newest addition in the Dacor refrigeration line keeps food perfectly preserved and ready for the celebration."
TWEET THIS: With industry-leading ice capacity, the latest #refrigerator from @DacorKitchen enhances #homeentertaining http://bit.ly/2a2op4X
The Distinctive 36-inch Counter-Depth Refrigerator offers 22 cubic feet of storage space in an elegant French door configuration. The refrigerator's crisper drawers come complete with humidity control that extends the life of fruits and vegetables, along with blue-light technology that promotes photosynthesis to keep food fresher longer.
"For kitchens that are small in size but frequently host large gatherings of family and friends, the seamless counter-depth design of this refrigerator makes it easy to maneuver around the kitchen while preparing food and serving guests," said Huebner.
This refrigerator incorporates Dacor's IonFresh technology which eliminates airborne bacteria and odor forming molecules by producing natural negative ions. Other notable features include an internal water dispenser, column LED lighting and an anti-fingerprint finish to keep the exterior bright and smudge-free.
To learn more about Dacor and its selection of ultra-premium kitchen appliances, visit http://www.dacor.com.
About Dacor
Founded in 1965, Dacor is a leading manufacturer of ultra-premium kitchen appliances. Designed and built in California, Dacor's cooking appliances integrate function and technology to create high-performing, intuitive products that reflect the lifestyle and needs of the passionate cook. Dacor is also the first and only ultra-premium appliance brand to be tested and recommended by the Master Chefs of Le Cordon Bleu. Le Cordon Bleu is considered the world's most respected culinary arts and hospitality educator. Dacor's full-suite of award-winning appliances include ranges, cooktops, wall ovens, refrigeration, ventilation and wine preservation. Family-owned for more than 50 years, the company is responsible for many of the innovations that have improved the way people cook in the modern kitchen. http://www.dacor.com