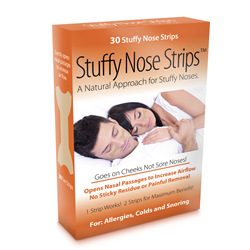 Go on your Cheeks not Sore Noses!
New York, NY (PRWEB) August 15, 2016
Stuffy Nose Strips, the new revolutionary Nasal Strips make their debut Nationwide in Walmart Stores.
Millions of people suffer everyday from some form of nasal congestion that adversely impacts their daily lives. As a result, there has been an overwhelming demand for innovation in this important space.
Determined to find a solution and relief for their own nasal congestion, the Founders of Stuffy Nose Strips decided to take matters into their own hands. After years of research and development, a Doctor and an Entrepreneur discovered a new and natural approach to relieve nasal congestion using Nasal Strips. Introducing Stuffy Nose Strips!
Based on a Proven Medical Technique to open the Nasal Passages, Stuffy Nose Strips go on the cheeks, not sore noses, and work by gently pulling the skin to the left and right of the nostrils to pull open the airways. These innovative Nasal Dilators provide a natural drug-free approach to increasing airflow and provide instant relief to due to Allergies, Colds/Flus, Sinus Issues, Deviated Septums and Snoring.
Also available in an Athletic Version called Performance Strips. Performance Strips work in the same manner to open airways for athletes but this application also protects eyes from the glare. Worn by athletes of all sports including cross fitters, runners as well as NFL and College football players. Performance Strips are in NFL locker rooms and recommended by trainers.
These strips can be found at your local Walmart Stores or at Walmart.com.
Stuffy Nose Strips
Performance Strips