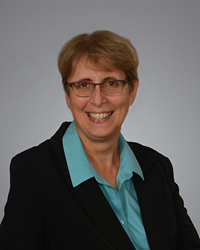 Our Health Data Archiver views and product workflows for health information management and clinical resources are particularly effective, efficient and seamlessly integrated to the leading electronic health record platforms
South Bend, Indiana (PRWEB) August 10, 2016
Harmony Healthcare IT (HHIT) today announced the appointment of Pam Paris Ph.D., PMP as the Director of Product Management and Development. In this new role, Dr. Paris is charged with advancing the company's software application, Health Data Archiver.
Health Data Archiver is a secure and searchable archive used by healthcare organizations nationwide to ensure HIPAA-compliant, long-term storage of protected patient and employee information. The product is utilized at hospitals and clinics when one system (i.e., electronic medical record or enterprise resource planning) is replaced with another.
Dr. Paris joins the HHIT team as a well-rounded information technology professional. Her 20+ years of experience leading product innovation efforts for numerous healthcare organizations provides significant product management and industry expertise. At HHIT, Dr. Paris will facilitate communication between customers and technical teams and then align the efforts needed to create and enhance Health Data Archiver as well as related data management services that make information available to healthcare professionals who need it, when they need it. The ultimate mission for Dr. Paris and her team is to improve the lives of patients by making the full patient history readily available to providers at time of care when the comprehensive narrative could change the course of treatment.
"Healthcare organizations constantly are evolving and upgrading to newer systems," says Dr. Paris. "This creates a huge need for smooth and accurate data migrations, expertly decommissioned legacy systems and secure archives that provide access to historical records from multiple former data stores."
Dr. Paris' job is about more than data and launching the next version of a product. It's about creating tools and processes to help healthcare organizations evaluate their information technology needs and develop data management strategies that truly work.
"Our company is uniquely positioned," Dr. Paris says. "Our team has the in-house technical expertise, clinical experience and innovation to help our customers streamline the landscape of their IT portfolio while also making historical data readily available. Our data views and product workflows for health information management and clinical resources are particularly effective, efficient and seamlessly integrated to the leading electronic health record platforms."
Throughout her career, Dr. Paris has helped pioneer many ground-breaking projects including a security review initiative for a major electronic health record vendor. This unique initiative walked customers through an innovative wizard-style program to evaluate their HIPAA security strengths and weaknesses and concluded with an actionable report that could be used to satisfy an audit. This project and others on her resume are highly relevant to her product development work today with Health Data Archiver.
"Pam's wealth of experience and industry knowledge has already made her a strong addition to our team," said Jim Hammer, VP of Product & Program Management at HHIT. "Hiring her into this role demonstrates our commitment to expanding and refining our product as we continue to grow the company. She fits our culture of innovation and exceptional service. I am confident Pam will provide and implement high quality solutions for our existing and future clients."
Dr. Paris holds a Ph.D. in Mental Health Counseling and a B.S. in Business Education from the University of Florida. She has numerous industry certifications including: Certified Security Compliance Specialist (CSCS), Certified HIPAA Professional (CHP), Project Management Professional – PMP, Epic Ambulatory Order Transmittal Masters, Epic Ambulatory Healthcare Software and NextGen Certified Professional - EHR/ICS NCP.
About Harmony Healthcare IT - Since 2006, health IT analysts at Harmony Healthcare IT have extracted demographic, financial, clinical and administrative data from hundreds of healthcare providers – both ambulatory and acute. Headquartered in South Bend, Indiana, the company's mission is to preserve vital information that will improve lives. Harmony Healthcare IT employs experts in data extraction, migration, retention, integration and analytics to provide its clients with trusted solutions. Working with hundreds of systems, billions of records and terabytes of data, Harmony Healthcare IT -- with its product, Health Data Archiver -- provides clients with access to historical records. Simply.
Visit Harmony Healthcare IT at HIMSS17, Booth #7760, Feb 19-23, 2017 in Orlando