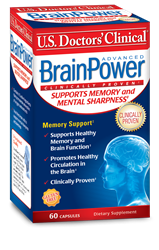 BrainPower Advanced provides an opportunity to help intervene cognitive decline which currently effects 3% - 19% of people under 65 and 15% of people over 75.
Costa Mesa, CA (PRWEB) August 11, 2016
U.S. Doctors' Clinical® recently announced the positive results of a randomized, double-blind, placebo-controlled trial of their cognitive support product, BrainPower Advanced. The clinical trial, entitled "The Relieving Effects of BrainPower Advanced, a Dietary Supplement, in Older Adults with Subjective Memory Complaints," demonstrated its effects on 98 volunteers with subjective memory complaints (SMCs), and evaluated subjective hypomnesis/memory loss (SML) and attention/concentration deficits (SAD) before and after 12 weeks of supplementation of BrainPower Advanced capsules. After 3 months of BrainPower Advanced supplementation, the dietary supplement's results were concluded to be beneficial to older adults, being both effective and safe in helping reduce the progression of symptom severity of both SML and SAD.
As of now, there is no safe or effective pharmaceutical drug for SMC. Other treatments have adverse effects such as nausea, vomiting, diarrhea, headache hypertension, and hepatotoxicity. BrainPower Advanced provides an opportunity to help intervene cognitive decline which currently effects 3% - 19% of people under 65 and 15% of people over 75. With little to no side effects and intriguing results from the clinical trial, BrainPower Advanced's use as a supplement can help maintain overall improvement for cognition, mood and memory, and may relieve cognitive difficulties in conjunction with consistent learning activities for mental improvement.
About BrainPower Advanced
BrainPower Advanced's formula contains key herbal extracts and compounds, including Ginkgo biloba, Camellia sinensis leaf, or green tea extract, Catharanthus roseus, kola nut, vitamin B6, vitamin B12, Huperzia serrata, as well as L-tyrosine, L-pyroglutamic acid, acetyl L-carnitine, choline bitartrate, L-glutamine, L-phenylalanine, and L-cysteine. These ingredients were all chosen to help with proactive measures for mood and cognitive support. Previous studies have examined the effects of these ingredients as beneficial for overall support of cognitive ability and memory enhancement.
U.S. Doctors' Clinical® originally developed this supplement to the benefit of its customers. One customer, Carol Gandert of West Lebanon, NH, has used the product extensively. "I have been using Brain Power Advanced for about 10 years. It brought a lot more clarity to my mind." Customer experiences regarding BrainPower Advanced speak highly of its cognitive effects. "My memory was cloudy and forgetful; sometimes I felt confused and didn't know my whereabouts," says Elenora Howell of Riverside, CA. "But since taking BrainPower Advanced the problem has improved about 90%."
About U.S. Doctors' Clinical®
U.S. Doctors' Clinical® is a premium nutraceutical line that utilizes herbal/botanical extracts, vitamins, and minerals in their formulas. A majority of supplements have undergone rigorous testing and scientific studies, formulated with first-rate ingredients known for their efficacy and safety, and are recommended by a trusted Doctor Advisory Board. U.S. Doctors' Clinical® supports natural and proactive care in numerous health areas including cardiovascular health, bone health, cognitive support, immune support, and vision health. All supplements are manufactured by a quality-certified manufacturer that holds multiple third-party certifications and maintains strict standards in cGMP practices.
Call to Action
For more information on U.S. Doctors' Clinical®'s BrainPower Advanced dietary supplement and clinical trial surrounding its effects, please visit the U.S Doctors' Clinical® website or direct all correspondence to Public Relations.