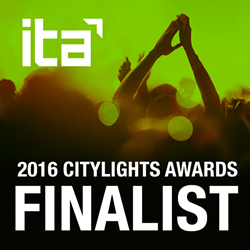 "We are thrilled and honored to again be recognized by the ITA as one of the top innovators driving growth in the technology industry and in Illinois." ~Craig Vodnik, co-founder, cleverbridge
Chicago (PRWEB) August 10, 2016
cleverbridge, a global subscription billing provider, announces that the Illinois Technology Association (ITA) has named cleverbridge a finalist for two 2016 ITA CityLIGHTS Awards. cleverbridge is a finalist for the Lighthouse Award and Outstanding Technology Development Award. Now in its 17th year, the ITA CityLIGHTS program honors companies and individuals whose innovation and success drive growth in the technology industry and in Illinois. Winners for each of the eight award categories will be announced at a gala event on September 15 at Morgan Manufacturing in Chicago.
The Lighthouse Award recognizes a growth-stage company, which through innovation in products, services or business approach, has grown to become a serious competitor in the marketplace (i.e. greater than $25 million in revenue). The Outstanding Technology Development Award is presented to the company or organization that utilizes or has developed a technology tool, process or service that has made a substantial improvement on business metrics. All award finalists are selected by a panel of accomplished judges representing the Who's Who in Illinois technology. The public can contribute to the selection of this year's winners by voting from August 8-19 at http://www.itacitylights.com. Winners will be determined by a compilation of the judges' scores and voting by the public at large in all categories except the Industry Champion, which is determined solely by the ITA Board of Directors.
"Year-over-year we have seen that the CityLIGHTS Awards is a barometer for success in the community, often predicting who or what will be the next big thing," said Fred Hoch, CEO, ITA. "I can say with confidence that this year, with these finalists, we are setting the stage for tech greatness for years to come."
"We are thrilled and honored to again be recognized by the ITA as one of the top innovators driving growth in the technology industry and in Illinois," said Craig Vodnik, co-founder, cleverbridge. "I view the Lighthouse Award and the recognition for Outstanding Technology Development as testaments to our entire organization. Our achievements would not be possible without the collective efforts of every cleverbridge team member and the community we support."
In 2015, the cleverbridge front-end development team designed a new online shopping cart that would become the basis for all new checkouts moving forward. Created using Sass (Syntactically Awesome Style Sheets) and the modern front-end build systems that support it, the team's work streamlined the cleverbridge front-end code base, improved clients' site performance and reduced style sheet lengths from 10,000+ lines of code to just around 2,400. The project effectively cut development time for a shopping cart in half, increasing the efficiency of the entire front-end development team by 200 percent. Most recently, the team leveraged the modularity of Sass in developing a ReactJS app, aptly called Swapify, which gives clients full control of a shopping cart's Sass variables and partials. Swapify can power over 50 million unique cart design variations, giving clients the freedom to pick out their own style combinations. The development effort also led to cleverbridge front-end developer Steph Milovic being named a finalist for the 2016 V3 Digital Technology Leaders Awards in the Product Manager of the Year category.
This is the third consecutive year cleverbridge has been named a finalist in the ITA CityLIGHTS Awards; the company was named a Lighthouse Award Finalist in 2015 and co-founder Craig Vodnik was named a CEO of the Year Award Finalist in 2014.
To view the 2016 ITA CityLIGHTS list of finalists or cast your vote for the award category winners, visit http://www.itacitylights.com between August 8-19. To learn more about cleverbridge, please contact inquiry(at)cleverbridge(dot)com or visit http://www.cleverbridge.com.
About cleverbridge
cleverbridge provides global subscription billing solutions that help companies build long-term customer relationships and grow recurring revenue streams. With its flexible, cloud-based billing and monetization platform, cleverbridge integrates seamlessly with client systems, simplifies subscription business models and delivers an optimized online customer experience. Leveraging cleverbridge expertise, technology and services, clients monetize products and services more effectively, rapidly expand their global subscriber base and maximize customer lifetime value. Headquartered in Cologne, Germany, cleverbridge has offices in Chicago, San Francisco and Tokyo. For more information, visit http://www.cleverbridge.com.
About ITA
The Illinois Technology Association (ITA) scales Illinois tech companies. With innovative resources that allow members to collaborate with each other, build their talent networks and elevate their local and national presence, ITA is the region's strongest advocate for fostering innovation and growth. Founded in 2005 and supporting 500-plus growth-stage tech companies, ITA has a rich history of driving the business forward. For more information, visit illinoistech.org, follow @ITAbuzz on Twitter or find us on LinkedIn.