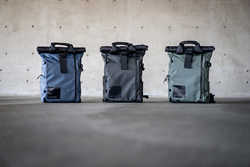 With a fully-customizable interior, the PRVKE 21 is a versatile carrying solution for a laptop, camera gear, clothes, books, or just about anything life demands.
Orem, UT (PRWEB) August 09, 2016
Today, WANDRD, a startup developing action-evoking carrying solutions, officially announced its second Kickstarter campaign for the PRVKE 21, a stylish, purpose-built backpack designed to keep up with the most adventurous wanderers. Adaptable to any lifestyle, the PRVKE 21's immensely intuitive design mixes with a touch of sex appeal to easily transition from the daily commute, to globetrotting travel, to photo-shoot. After the success of the original PRVKE pack and requests for a smaller a-la-carte alternative, the team at WANDRD went to the drawing board and are pleased to deliver both in three color options; Aegean Blue, Wasatch Green, and Black. For more information on the PRVKE 21 (pronounced "provoke") and available backer packages, please visit: https://www.kickstarter.com/projects/wandrd/prvke-21-the-best-bag-for-everyday-carry-and-camer
"I am the only non-photographer in the company, so with this second product I really pushed to get a-la-carte pricing so the non photographers don't have to shoulder the cost of features they won't use, and photographers can purchase only the accessories they will," said Cope brother Austin. "While the original PRVKE is perfect for bigger camera setups and longer trips – the PRVKE 21 is a perfect every day carry bag."
With a fully-customizable interior, the PRVKE 21 is a versatile carrying solution for a laptop, camera gear, clothes, books, or just about anything life demands. For photographers or electronics junkies, a removable foam cube cradles gear in a cushion of padding; its infinitely-interchangeable Velcro dividers can accommodate a mirrorless / DSLR body and up to three lenses, or any similar combination of gear. With the protective cube removed, the PRVKE becomes a daypack that seamlessly fits larger items. Also, its built-in, adjustable Trifold Laptop Sleeve adjusts to fit up to a 15" laptop, and its FAA-approved design speeds carriers through security.
"Taking to heart all of the feedback we received from the PRVKE Pack we didn't just make the PRVKE 21 a smaller bag – we added upgraded materials like weather resistant YKK zippers, more & stronger magnets in the tote handles, padded waist straps, and new features like a new key / accessory pocket and updated accessory straps," said Ryan. "The WANDRD ethos states that life is never stagnant, so neither should be a great backpack."
Exterior materials, including tarpaulin and nylon dobby, give the PRVKE Pack a sleek aesthetic that delivers extreme durability while being resistant to the elements. Within this shell, WANDRD has created one of the most accessible backpacks available, featuring multiple access points to the gear compartments. A central clamshell zipper opens the entire pack for lay-flat packing and reconfiguration of the interior components; each interior compartment zips closed for super clean organization, and the camera compartment lining keeps dust and sand out even when the clamshell is open. A roll-top design offers a second reach-in access point and allows the pack to easily expand or contract to meet the day's gear load out. A third side access zipper puts the camera, or anything else stored in the bottom of the pack, within reach even with the padded foam cube in use.
"Aesthetics, function, and quality are equals at WANDRD, we only bring products to market that we are proud of," said Spencer Cope. "When dealing with our manufacturer we never ask how to save money but rather what could be improved if we added money to the production of our bags - this philosophy is the secret sauce to create high quality, sexy, and functional products."
Jammed with intuitive and thoughtful design elements, the PRVKE 21 is now being sold in three options – photography bundle, travel bundle, and a-la-carte pricing, which are outlined below.
Photography Bundle – Buy the PRVKE 21 with all of our accessories at a highly discounted price:

Camera Cube
Camera Sling
Padded Waist Straps
Pair of Accessory Straps
Rainfly
Travel Bundle – Buy the PRVKE 21 with the following accessories at a highly discounted price:

Padded Waist Straps
Pair of Accessory Straps
Rainfly
A-La-Carte – Buy just the PRVKE 21 and add on any of the following accessories:

Camera Cube
Camera Sling
Padded Waist Straps
Pair of Accessory Straps
Rainfly
The PRVKE 21 is currently available through WANDRD's second Kickstarter campaign. Offering massive savings from anticipated retail pricing, backer packages start at $150.00, and backers can expect delivery of limited early bird packages before December 25th 2016. For more information on the PRVKE 21 campaign, please visit: https://www.kickstarter.com/projects/wandrd/prvke-21-the-best-bag-for-everyday-carry-and-camer
PRVKE 21 Specifications:

Dimensions: 17" x 11" x 6.5" or 21 Liters expandable to 25 Liters
Weight: 3 lbs (1.4 kg)
About WANDRD
Life wasn't meant to be planned. It was meant to be lived. There are those that find solace in the comfortable, the road oft traveled – we are not the company for them. We exist to encourage the unexpected, the deliberate leap into the unknown. Yes we create travel and photography gear, but only to provoke the WANDRD. For more information on WANDRD or the PRVKE 21, please visit: http://wandrd.com/
###
Media Contact:
Ryan Cope
ryan(at)wandrd(dot)com
(801) 850-7458