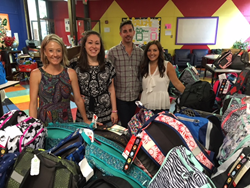 It's important for us to give back to our community...We greatly value partnering with clients who feel the same way.
(PRWEB) August 15, 2016
Atlanta-based incentive programs company, Incentive Solutions, Inc. (ISI), is proud to recognize their generous client base for participating in the Agape Atlanta's Great Backpack Give-Away! With the help of Incentive Solutions clients and other donors, Agape was able to deliver over 2,000 backpacks, which were distributed at Agape headquarters on Friday, July 29th to underprivileged K-12 students in Atlanta.
In preparation for the Great Backpack Giveaway, non-profit organization Agape invites the Atlanta community to host their own drive, sponsor children, or sign up to prepare and deliver backpacks. For the past three years, ISI has partnered with Agape Atlanta by hosting a drive, inviting company clients and affiliates to donate "cyber currency," or online points earned in their online reward programs. These points can be redeemed for merchandise. "Once we receive the point donations," explains ISI Account Manager Ashley Lodge, "we spend them on backpacks and school supplies at Target. Then the ISI team gets together to stuff backpacks and deliver them to Agape."
Thanks to client donations, Incentive Solutions was able to hand over a whopping total of 110 backpacks to the Great Backpack Give-Away! "The number of clients pitching in and the backpack total both increased this year over last year, which we were really excited about," Lodge says. Special thanks to:

Siemens Industry, Inc. , a manufacturer that specializes in industrial automation and technology
Renasant Bank, a client-focused community bank corporation offering banking, lending, insurance, wealth management, mortgage and financial services
Legend Brands, provider of cleaning and restoration products for professional contractors
Upsher-Smith, a pharmaceutical company dedicated to pursuing innovative products
CertainTeed, a Saint-Gobain subsidiary company specializing in exterior and interior building products
Mitsubishi Electric Cooling & Heating, provider of traditional cooling and heating options, as well as ductless climate control systems
"It's important for us, as an Atlanta-based company, to give back to our community," says Incentive Solutions CEO Steve Damerow. "That's how cities become better, and these children are Atlanta's future business leaders and job-creators. We greatly value partnering with clients who feel the same way."
About Incentive Solutions
Incentive Solutions, Inc. was founded in 1994 and is based in Atlanta, GA. The parent company of The Incentive Solutions Group of Companies, consisting of Incentive Solutions and Loyaltyworks, Incentive Solutions offers online rewards, travel incentives and gift card rewards. Since its creation, Incentive Solutions has focused on delivering more than just rewards, innovating the incentive industry by utilizing emerging online technologies. Acting as valued partner and trusted advisor to clients, they help organizations increase sales, motivate employees, build customer loyalty, create positive work environments and improve channel sales relationships.
Incentive Solutions
2299 Perimeter Park Drive, Suite 150
Atlanta GA 30341
(770) 457-4597
1-866-567-7432
About Agape Atlanta
Agape is a 501(c)(3) nonprofit organization whose mission is to empower and support local families in need to discover and embrace their full potential. Agape fulfills this mission by providing programs focusing on character development, family support services, academic achievement, reading proficiency by third grade, successful high school graduation and post‐graduation placement.