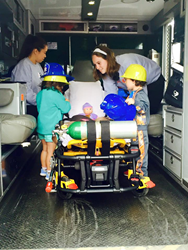 Safe Kids agencies and other organizations working together keeping kids safe - that's a win for our organization and a win for the community.
Harrisonburg, VA (PRWEB) August 10, 2016
Safe Kids Central Shenandoah Valley, led by the Harrisonburg Fire Department, is a collaboration of many organizations coming together to promote safety for children in the Harrisonburg and Rockingham County area. HRS is proud to join with local insurance agencies, Sentara Rockingham Memorial Hospital, Rockingham County Fire & Rescue, Harrisonburg Police Department, Rockingham County Sheriff's Office, Hose Company #4 and Parks and Recreation from Harrisonburg and Rockingham County as part of the Safe Kids team.
The all-volunteer Harrisonburg Rescue Squad (HRS) has joined Central Shenandoah Valley Safe Kids Coalition (Safe Kids) to help educate the community about children's health, safety, and Emergency Medical Services (EMS). The partnership builds upon several years of collaborative and very successful children's health and safety community programs and events. This summer, the team visited local neighborhoods to facilitate children's summer safety activities, and will continue to visit local neighborhoods to meet the community and answer questions about safety and EMS operations. "I'm really honored by the opportunity we have to work with Safe Kids and serve the community in this new and exciting way," said Hayley Holmes, who leads the HRS-side of the Safe Kids partnership.
Safe Kids provides programs such as fire safety classes, car seat checks, safety workshops and more in the Harrisonburg and Rockingham County area. "The relationship between Safe Kids and HRS has been great," said Safe Kids Coordinator Wanda Willis. "The willingness for [HRS's] members to spend time helping to keep people safe in their community is a tribute to the agency and the members that volunteer."
HRS volunteers who participate in Safe Kids events go above and beyond their commitment to HRS. "Our volunteers are always thrilled to dedicate extra time to meeting and interacting with local kids and their families," said Holmes. Lt. Willis added that "the volunteers from HRS are top of the line. We have enjoyed their eagerness to be at events and to jump in when the help is needed. [Harrisonburg Rescue Squad volunteers] want to make a difference and it shows every time they show up to an event."
HRS teaming with Safe Kids helps to broaden the reach of their mutual message of safety and to build relationships with the community by implementing quality safety programs. "The ultimate accomplishment means less children are injured in Harrisonburg and Rockingham County," said Lt. Willis. This sentiment is echoed by HRS. "Working with Safe Kids has been a meaningful way for HRS volunteers to work with more of our community's wonderful organizations, and meet children and residents in non-emergent situations, talk to them about how our agency operates, and share knowledge of health and safety practices with kids to create a safer community," said Lindsey Stein, an HRS volunteer and head of the HRS Community Relations committee. "Safe Kids agencies and other organizations working together keeping kids safe - that's a win for our organization and a win for the community" agreed Lt. Willis. HRS looks forward to continuing the relationship and seeing the positive impacts on the health and safety of children in the Harrisonburg community.
About Harrisonburg Rescue Squad:
Harrisonburg Rescue Squad (HRS, also known as Rescue 40) is an all-volunteer EMS agency that provides service to Harrisonburg and parts of Rockingham County. HRS owns and maintains a full fleet of ambulances, response vehicles, a Heavy Rescue Vehicle and a Mass Casualty Incident Response Unit. HRS offers new member training, emergency driving certification, and many other EMS courses. HRS has over 160 active volunteer members and receives over 8,500 calls-for-service per year. The volunteers take pride in the ability to provide extensive life-saving services to the local community.