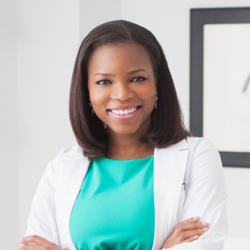 New York, NY (PRWEB) August 09, 2016
The Laser & Skin Surgery Center of New York® is pleased to announce that Michelle Henry, MD, will be joining its practice on Monday, September 12, 2016. Dr. Henry is a Harvard-trained, board certified dermatologist who specializes in laser surgery, cosmetic dermatology, hair transplantation, PRP (platelet rich plasma) injections, skin of color and Mohs micrographic surgery for the treatment of skin cancer.
Dr. Henry attended medical school at Baylor College of Medicine in Houston, Texas; completed her residency and served as Chief Resident in dermatology at Mount Sinai Hospital in New York City; completed a fellowship with the Harvard Medical School; and currently serves as a Clinical Instructor of Dermatology at Weill Cornell Medical College. She has published articles in Dermatologic Surgery, is a committed research scientist and has lectured at the Annual Meetings of the American Society for Dermatologic Surgery as well as the National Medical Association.
Dr. Henry is currently a fellow of the American Academy of Dermatology, American Society for Dermatologic Surgery, American Society for Laser Medicine & Surgery and the American College of Mohs Surgery. She also serves on various committees and boards, such as the Education Committee of the American Society for Dermatologic Surgery, the Communications Committee for the Women's Dermatology Society and the Scientific Advisory Boards for Bevel and BTG International, Ltd.
About the Laser & Skin Surgery Center of New York®
The Laser & Skin Surgery Center of New York is one of the largest and most prestigious dermatology practices in the country under the direction of Roy G. Geronemus, M.D.. The Center has the most advanced laser and related technologies where all procedures are performed by board certified dermatologists. The physicians also specialize in cosmetic dermatology and have extensive experience in the use of injectable fillers and Botox. Many of our physicians are fellowship trained in Mohs micrographic surgery. Visit our website at http://www.laserskinsurgery.com