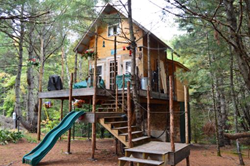 I expect the tiny and unique homes movement will just continue to grow in popularity
Kansas City, Mo. (PRWEB) August 11, 2016
In a time where many of us are living paycheck to paycheck, Americans are downsizing their living space in an unorthodox way in an effort cut back expenses. Many buyers are flocking to the idea of unconventional housing like tiny homes, which have taken the real estate market by storm. This has forced United Country Real Estate agents across the country to think outside of the box and elevate their marketing tactics.
Typically, homes in the United States range from 2,000 to 2,500 sq. ft. in size. Tiny homes and other similar homes come in all shapes and sizes, but typically range from 100 to 400 sq. ft. There are many reasons society is moving toward this trend, from cutting costs to environmental concerns. Sometimes, it's simply more convenient and the interest has grown quickly. Tiny/unconventional home websites have been popping up everywhere since the beginning of 2016.
United Country Real Estate agents across the country are finding themselves in unique situations – listing these types of sustainable and unique properties. Traci Gauthier of United Country – Lifestyle Properties of Maine in Bangor, Maine, currently has a tree house listed for sale. Described as a "tiny house," the tree house is just 544 sq. ft. and sits on 23 acres. It offers one bedroom, a full bathroom and full-sized kitchen.
"The uniqueness of the tree house, besides it being a tiny house, is the fact that it's ready to move in," said Gauthier. "People love the décor and the land. Those who have seen it are very impressed with the use of space and how many comforts of home they are finding in such a small space."
Gauthier was originally skeptical to take the tree house as a listing. Since tiny homes are fairly new and unusual, there were concerns about lending, insurance and appraisals. In preparation, Gauthier looked into all aspects before taking on the listing. She also will not proceed with a buyer without pre-approval.
"There aren't a lot of tiny homes that are permanent like this one. Most of them are mobile," said Gauthier. "It's such a small market so I had to cover my bases more so than a normal sale."
Interest in the tree house is booming. A big reason is due to her enhanced marketing efforts in a smaller market. Utilizing strategies like a strong social media presence, adding the listing to tiny house website and writing a blog about the house on a third party website were just a few of the ways her office has been able to garner attention.
For buyers, it's all about sustainability and cost. Mendy Reece of United Country – American Realty in Doniphan, Mo., deals with buyers looking for these specific attributes regularly. She just landed a very unique listing – a grain bin that has been converted into a one bedroom, one bath property that sits on 20 acres of recreational land. The owners originally converted the silo into a living space so they could avoid hauling around their RV.
"A lot of people around here are going green. Whether it's organic gardening, converting to solar energy or living off the land in general," said Reece. "Places like this make it a lot easier to do things like that. It could easily be converted to an off-the-grid property or would be perfect as a vacation or recreational property."
Reece said utilizing United Country marketing tools like their national buyer database of more than 650,000, its niche marketing program for recreational land and sustainable/off-the-grid properties allowed her to target buyers nationwide who are interested in that specific type of property. Something that is necessary for a property that's so unique. She also uses a tool called mobile text writers that allows those interested to get information texted straight to their cell phone while also sending Reece information on the lead.
"I always say I'm local, mobile and global," said Reece. "The seller of the silo wanted to know what we could do for her. I said we can target out-of-town and out-of-state buyers. United Country provides us the resources we need to reach people across the country while we provide local expertise. It's a win-win."
One potential downfall of these tiny and unique properties? Unless you foresee issues and get ahead of them like Gauthier and her treehouse, getting insurance, lending and appraisals might not be easy. Reece says her local appraisers won't touch it because it is so unique. That means searching for another appraiser or requiring the buyer to pay in cash. However, both Reece and Gauthier said that buyers looking to downsize to save on cost and live a sustainable lifestyle won't change anytime soon.
"I expect the tiny and unique homes movement will just continue to grow in popularity," said Gauthier. "There's so many things you can do with it. You can even make it an investment. My sellers for the tree house are actually running a disc golf course and tree house rental in another part of the state and they have been swamped with inquires."
The tiny house trend is still fresh, but it continues to gain momentum. With endless possibilities and incoming producing opportunities, United Country agents foresee a continued interest sustainable and unique properties and they will be ready to sell them.
United Country Real Estate is the leading land seller in the United States, marketing ranches, farms, recreational and vacation properties nationally. It is the leading, fully integrated network of real estate professionals with nearly 500 offices and 4,000 agents, brokers and auctioneers nationwide specializing in lifestyle real estate.
For more information about United Country Real Estate, call 800-444-5044 or visit UnitedCountry.com.
About United Country Real Estate
United Country Real Estate –is the leading, fully integrated network of conventional and auction real estate professionals. The company has been an innovator in lifestyle and country real estate marketing since 1925. United Country supports nearly 500 offices and 5,000 real estate professionals across four continents, with a unique, comprehensive marketing program. The exclusive program includes the highest ranked and largest portfolios of specialty property marketing websites, unequaled national print advertising, the largest internal real estate advertising agency, an extensive buyer database of more than 650,000 opt-in buyers and additional proprietary programs to advertise local properties more broadly.