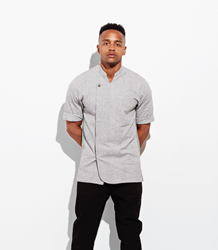 New York, NY (PRWEB) August 17, 2016
Tilit NYC has been manufacturing workwear in New York City since late 2012, with a focus on hotels and restaurants. The brand outfits some of the top hotel brands in New York, London and Miami along with hundreds of restaurants worldwide. The clothing line is also available for individual purchase through their website http://www.tilitnyc.com.
Started in November 2012 by career chef Alex McCrery and partner Jenny Goodman, the clothing line has grown from aprons, chef pants and chef coats to include styles ready to wear on the street like shorts, tactical pants, street pants, jackets and workshirts.
Tilit's most recent release is the PPX chef coat. Made entirely of recycled fibers of 50% Hemp and 50% cotton, the PPX chef coat is soft and comfortable while the fit is sleek and clean. Covered snap placket, vented side panels, rear neck apron tab and adjustable hip tabs are just a few of the fine details that make this coat fit and look great. It is USA made as are all of Tilit's goods. The PPX Coat comes on Men's and Women's fits.