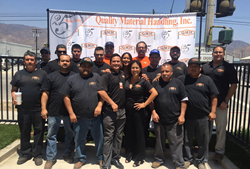 Azusa, California (PRWEB) August 10, 2016
Quality Material Handling, Inc. (QMH) honored local fire and police department service men and women during its second annual QMH Gives Back event last week. Showing appreciation with some of the best burgers in town, QMH brought in a seventy-foot In-N-Out truck to mark such hard work, dedication and excellent service.
"California fire season has been especially brutal this year -- and in our own backyard," said QMH President Hector Pinto. "And with all that is happening nationally to unite our police officers with the community following recent events, we see it as an honor and privilege to be able to give something back to those who put themselves on the line for us every day."
The Azusa Police Department's officers and administrative staff, as well as the Azusa Fire Department's local crews came out to enjoy 150 hamburgers, cheeseburgers and double doubles. Attendees shared a meal, putted on the greens and posed for photos, bringing everyone together for fun and appreciation.
Family-owned and operated, QMH recently celebrated 25 years in business as an active member of the Azusa community. This year also commemorates Pinto's appointment as President of the Azusa Police Foundation, which supports fallen officers and their families. With Police Chief Sam Gonzalez retiring this year, this designation further strengthens QMH's community to the Azusa community.
About QMH
Quality Material Handling, Inc. was founded in 1991 specializing in products and services in the material handling industry. QMH offers warehouse management services and solutions including warehouse layout and design, permit acquisition, shelving and racking system design and installation, warehouse equipment, installation & relocation, and warehouse consultations. As a family-run, Women- and Minority-owned Business Enterprises (WMBE) certified business in California, QMH has made multiple appearances in LA Business Journal's top 100 businesses, winning the publication's Latino Business of the Year Award.