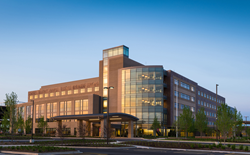 The community has already embraced our hospital, which has added to our team's excitement.
(PRWEB) August 09, 2016
The first baby born at the new Centegra Hospital-Huntley sped into the world in a flurry of excitement Aug. 9 when her parents arrived at the hospital 30 minutes before the hospital's official opening. As Centegra Hospital-Huntley employees lined up to take historic photos to mark the hospital's opening day, Heather and Shane Doty of Hampshire, Ill. arrived in the final stages of labor. At 7:02 a.m., Gianna Doty was welcomed into the world. She weighed 6 pounds, 10 ounces and was 17 1/2 inches long.
"We received a call from the patient's doctor that the mom was in labor and she didn't think she could make it all the way to Centegra Hospital-McHenry," said Sheila Senn, chief operating officer of Centegra Hospital-Huntley. "Our team was ready to receive patients and when the family arrived it wasn't long before the baby was born. The entire hospital celebrated when we heard Brahms' Lullaby played over the intercom."
The hospital already had a Cesarean section scheduled for later in the morning, and another family's delivery meant three babies were born by 2 p.m. Teams had performed a cardiac catheterization procedure, several surgeries and endoscopic procedures and the emergency department had received five patients via ambulance within hours of opening.
"The community has already embraced our hospital, which has added to our team's excitement," said Peggy Norton-Rosko, chief nursing officer of Centegra Health System. "Everyone's careful planning has prepared us for today, and we take great pride in knowing we've already brought high-quality care right here to the Huntley region."
Centegra Health System is committed to meeting the health care needs of the residents of greater McHenry County and to making services available in multiple and convenient locations, including hospitals in McHenry, Woodstock and Huntley, Immediate and Physician Care Centers, Centegra Sage Cancer Center, Health Bridge Fitness Centers and the highly anticipated Centegra Hospital-Huntley.
As the region's leading health care provider, Centegra Health System continues to bring the latest treatments and technology, along with the skills of nearly 4,500 associates, to meet the needs of the growing McHenry County community. For more information about Centegra Health System visit centegra.org, search Centegra Health System on Facebook and Twitter or call 877-CENTEGRA (877-236-8347).