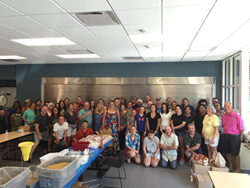 "It was an awesome experience to see everyone helping out, doing whatever was needed to get the job done and to enjoy working together. Young, old, friends, family, strangers-we were united in our mission." Pam DeMelim VP HR Director
Providence, RI (PRWEB) August 11, 2016
Brokers' Service Marketing Group (BSMG) continues to focus on strengthening the communities in which it does business. At this year's 15th Annual Charity Invitational held at the Rhode Island Country Club, BSMG, in a matter of minutes, raised $8,000 for The Outreach Program. These generous donations equated to 32,000 meals, which were packaged and donated to Amos House in Providence, RI. Amos House is a nonprofit social services agency that provides hospitality and direct services to the homeless and poor of Rhode Island.
A group of over 80 volunteers, including BSMG staff, family members, customers, carrier partners and community members spent the afternoon packaging nutritious meals. Amos House lent their new cafeteria for the event and it was quickly transformed into a sea of assembly lines. Each line packaged all of the dry ingredients for the meals, as well as sealed and boxed them. The meals BSMG provided to Amos House consisted of pasta and tomato basil sauce, rice and beans and macaroni and cheese.
The Outreach Program is a non-profit 501(c)(3) corporation that organizes food packaging events around the country. With more than 300 million meals packaged to date, the organization's mission is to provide food, safe water, education, and medical care to those in need at home and abroad.
They strive to feed the 795 million undernourished people in the world. In the the United States alone, 1 in 6 children do not know where their next meal will come from. Through their services, The Outreach Program hopes to drop that number significantly. BSMG is proud to help spread this important message, as well as actively participate in creating a solution.
Amos House plans to take what they need from the 32,000 packaged meals and then donate the rest to other local food pantries and charities. A wonderful day was had by all and Brokers' Service Marketing Group was blown away by the support and generosity of all those who participated.
"There were over 84 of us and within 2.5 hours we had packaged 32,000 meals, boxed them up and cleaned up. It was an awesome experience to see everyone helping out, doing whatever was needed to get the job done and to enjoy working together. Young, old, friends, family, strangers-we were united in our mission. The energy level was high and the sense of camaraderie and cooperation was overwhelmingly evident. I can't wait to do it all again!" – Pam DeMelim VP HR Director
About Brokers' Service Marketing Group:
Built on a 44-year history and leveraging its industry knowledge, Brokers' Service Marketing Group is a life insurance, annuity and long term care insurance brokerage general agency. We support advisors and financial institutions whose clients require asset and income protection as well as retirement solutions. Our innovation, passion and expertise help our customers deliver the best results to their clients every day.