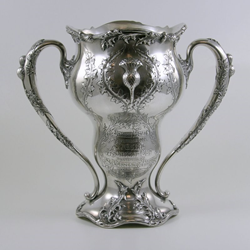 For the first time in 112 years, an Olympic Games Golf trophy hits the auction block
Denville, NJ (PRWEB) August 10, 2016
As golf returns to the Olympic Games for the first time in 112 years, an original trophy the 1904 Olympics has been found, and is now up for auction with Green Jacket Auctions. The trophy is expected to fetch in excess of $50,000.
The last time golf was part of the Olympics was during the 1904 Olympic Games in St. Louis, Missouri. When golf disappeared from the Olympics, so to did the trophies associated with that historic event. Only recently did this original trophy surface. When the owner learned of its value, and of the collecting community's search for these original trophies, he was shocked. With the discovery of this trophy, there are now only 6 golf trophies from the 1904 Olympics known to exist, and 3 of those reside in museums.
Though the Olympic Games is now famous for awarding gold, silver, and bronze medals, back in 1904 the vast majority of prizes were trophies.
The 1904 Olympic Games Golf Trophy is currently up for auction at http://www.GreenJacketAuctions.com.
About the Auction
Green Jacket Auctions' Summer Golf Auction is currently open for bidding and will conclude on Saturday, August 20, 2016. The auction features 1000 lots of rare golf memorabilia. Auction items, including the Olympic Trophy, are available for photographing and viewing in New Jersey.
Auction highlights:
1904 Olympic Games Golf Trophy – Estimate: $50,000+
Jack Nicklaus' PGA Championship "Player" Trophy – Estimate: $50,000+
Original Green Jacket from Augusta National Member – Estimate: $15,000+
About Green Jacket Auctions, Inc.
Green Jacket Auctions, with offices in Tampa, FL and Denville, NJ, is the largest online golf antiques and memorabilia auction house in the world. It hosts quarterly auctions of rare golf memorabilia, which are participated in by collectors and institutions in over 50 countries.